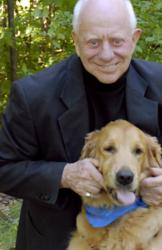 "This book is essential reading for the conscious evolution of society." - Barbara Marx Hubband, Founder of Foundation for Conscious Evolutions
Cleveland, OH (Vocus/PRWEB) April 12, 2011
Harry J Bury has announced the release of his latest book, "An Invitation to think and feel differently in the new Millennium." The book is available in Paperback; Trafford Publishing ISBN: 9781426942655 and can be purchased via http://www.harryjbury.com . The book features a Foreword by Prof. Suresh Srivastava.
"Everyday upon awakening, I hear the news of more and more human inhumanity to humans and again before retiring more atrocities resulting from hatred". Bury found himself thinking that "he was bombarded with news of unimaginable violence through out this beautiful planet of ours." For years, he kept asking himself, "Why do we human keep killing each other instead of loving on another?" An Invitation to think and feel differently in the new Millennium is part of Bury's answer to his own questioning.
Harold "Harry" J. Bury is a multi-titled creative thinker, a Roman Catholic priest, college professor (who has taught nationally and internationally), world traveler, social and political activist, creative thinker and inspirational speaker. His book reflects his amazing background and life philosophy, none of which are dull.
In 1969, Fr. Bury was arrested for attempting to celebrate Mass in the Pentagon for the souls of fallen Vietnamese and American soldiers in the continuing war. With three others, in 1971, Fr Bury chained himself to the US Embassy Gate in Saigon at the Vietnamese' request to protest the war in Vietnam. His intent was to stay chained to the gate until the war ceased, but worried how he would manage embarrassing human needs. Then, with a group of peacemakers in 1972, Fr Bury flew into Hanoi under the protection of US bombardment, and brought out three captured US pilots: Lt. Markham Gartley, Maj.Charles Elias, and Lt. Norris Charles.
Bury was a good friend of Mother Teresa of Calcutta, and in 2004, he was invited to con-celebrate Mass with Pope John Paul II at her beatification in Rome. A year later, in 2005, the Patriarch of Jerusalem invited the Michigan Peace Team to come to Gaza and stand as human shields between the Israeli settlers and the Palestinians so they would not kill each other. Fr Bury volunteered to go. While in Gaza, he was abducted and held for three hours and made to confess at gun point that he worked for the CIA and the Israeli Army. It was a lie, and to this date, he regrets saying it.
A career of studying behavioral science brought Bury to realize that our behaviors stem from our thoughts and feelings concerning people, events and things. We then look for information or evidence to confirm how we think and feel. Originally, our ideas and attitudes are derived from our basic assumptions which we gained from our culture and evolving upbringing. People born in Thailand see reality and feel quite differently about it compared with people from Iraq or the United States.
So, what, he wondered, if a critical mass of people throughout our world changed certain of our fundamental unconscious assumptions? Would it be, could it be possible that our planet would become a loving, peaceful place to live and enjoy our children and our children's children?
Bury's book develops a series of assumptions, for example: "we are continually in the process of discovering truth"; "we never arrive at Absolute truth"; we assume we are continually in the process of creating our own reality"; "we assume we are all one" and we assume, "that all of us do what we perceive is best and we are not free to do otherwise." These assumptions and some others are the basis for an amazing book that will enliven, uplift, upset and otherwise take you on a journey through life viewed from "outside the box" – a journey whose goal is nothing less than a "major shift in our worldview". Are you ready?
Barbara Marx Hubband, Founder of Foundation for Conscious Evolutions, says that "This book is essential reading for the conscious evolution of society."
"The world of organizations and indeed of humans is always in short supply of the kind of transformative perspective on life, living and managing that you've advocated all the 30 years I've known you and that's now housed between the covers of your book for all to internalize at their own pace. It is truly the signal in the noise!" - Anthony John Khuri, Ph.D. - Educator & Advisor on the Strategic Development of Management & Organizations
Bury writes of and desires a major shift in our worldview. He sees it emerging at this very moment. "It is changing the way many of us think and feel about intimacy, healthcare, work, education, our environment, the law breakers, politics and spirituality", he believes. But then, he also believes that "we are continually in the process of discovering truth" and "we never arrive at Absolute truth". Hey, wait a minute! It's going to get exciting.
"Bury writes with the seriousness of a college professor and the charm and challenge of an inspirational speaker who makes it enjoyable to hear difficult subjects and along the way, brings you to a point where maybe 'you' will change some of your deeply held beliefs, maybe 'you' will experience a transformation". – William Laufer, Filmmaker
You are invited to read this book and join us in imaging how our world is evolving as we change these four fundamental assumptions.
Professor Bury studied at Nazareth Hall, U of Minn and got his PhD at Case Western Reserve University.
Part of the proceeds from the sale of the book will go to the Anh Linh School for street children in Ho Chi Minh City (old Saigon) in Vietnam and the care of children in Haiti under Mercy and Sharing organization started by Susan Krabacher.
Further information on the book, contact Harry J Bury
Any questions or donation issues can be directed to Harry J. Bury.
###