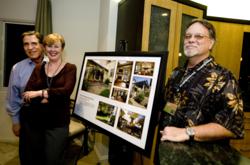 [Client Satisfaction] is what drives and defines us as a company
Claremont, CA (PRWEB) June 23, 2011
HartmanBaldwin Design/Build a leading architecture, construction, and interior design company announced today that the company has been awarded, for the third year, a Guildmaster Award for exceptional customer satisfaction. It was one of the few luxury design/build firms in Southern California recognized for their superlative performance.
"This is not easy. It takes an enormous amount of focus and energy on everybody's part but it's what drives and defines us. This award means so much to us because the judges are none other than our own clients. Consistent feedback and communication on how to improve has allowed us to provide an exceptional customer experience to our clients. It is why they continue to refer us to family and friends. We thank our clients and GuildQuality for this award", says Bill Baldwin, CEO and Owner of HartmanBaldwin Design/Build.
Delivering exceptional customer service is what gets HartmanBaldwin the awards and recognition as a leader in the market but none of that would be possible if it wasn't for its tight-knit and seasoned staff of architects, craftsmen, artisans and professional administrative staff.
"HartmanBaldwin is excellent is this regard. If there is a problem, you can count on Bill and his team to make it right. Even after project completion and final payment they will return when needed to correct, repair or improve," says one of the many testimonials on HartmanBaldwin's GuildQuality page.
Since its inception, not only did the company grow, but so did the projects and their respective deadlines. One would think that after over 25 years of experience the routine or grind would inevitably result in someone burning out or phoning it in, not so for HartmanBaldwin.
Reg Abersek, Project Manager, just celebrated his 20-year anniversary with the firm. "I love what I do, the people I work with and I guess that's why time has flown by. You've got to love what you do and have pride in the smallest of details. I tell the young guys all the time to remember that, if you don't love what you do you should move on, life's too short."
About HartmanBaldwin - HartmanBaldwin Design/Build has been remodeling and restoring homes in for over 30 years. It has won over twenty-five local and national awards for design and building, including the Gold Nugget Grand Award, sponsored by the Pacific Coast Builders Conference and Builder Magazine; several Renaissance Design Competition Grand Awards, sponsored by the NAHB Remodelers Council and Remodeling Magazine; and numerous Architectural Commission Excellence in Design Awards.
About GuildQuality and the Guildmaster Awards - North America's best builders, remodelers, contractors and real estate developers rely on GuildQuality's customer satisfaction surveying to help them monitor and improve the quality of their service. Once a year, GuildQuality recognizes exceptional customer service with the Guildmaster Awards. Visit the Guildmaster section of the GuildQuality website to see information about all 2011 Award Winners and read about the award qualifications.
###