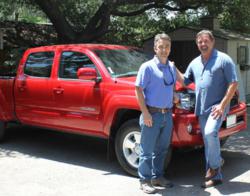 My motivation isn't what my share of the profit is or what it should be
Claremont, CA (PRWEB) June 22, 2011
HartmanBaldwin Design/Build celebrated the 20 year anniversary of one its project managers, Reg Abersek. In honor of that achievement Bill Baldwin, owner and CEO of HartmanBaldwin, gifted Reg a brand new truck of his choice.
"Reg had a Cary Grant quality to him...very bright, charming and when we talked about what we were aiming to do here...he just 'got it'," recalls Baldwin. "He understood that the sophistication of what we were trying to accomplish at HartmanBaldwin went beyond just great carpentry skills...you needed a brain and the ability to build client relationships that transcended what a typical contractor expects of their people. It's no surprise to me that Reg turned out to be an instrumental person in the evolution of HartmanBaldwin."
As the years passed not only did the company grow, but so did the projects and their respective deadlines. One would think that after 20 years the routine or grind would inevitably result in someone burning out or phoning it in, not so for Reg Abersek. "Reg is a professional. I'm impressed by his energy, calm demeanor and ability to handle the responsibility that rests on his shoulders. It's not a surprise to me that he's in the position he is in", says Ralph Castillo, operations manager for HartmanBaldwin.
To commemorate the occasion Bill Baldwin repeated a tradition he started when Allen Suckley became the first HB employee to reach the 20-year mark. "There aren't many people in this world that will stick with you through the growth of a business or a tough economy. That's real employee loyalty, but it's more than that, these folks were committed to improving, growing and reinventing themselves as our company grew. They are a huge reason why HartmanBaldwin is where it is today," smiles Baldwin. "It was a great day when I got to hand Reg the keys to his brand new truck and one I won't soon forget."
In the end, shouldn't an Owner and CEO be more concerned with the bottom line? "My top priority is always maintaining the health of this company but the motivation isn't what my share of the profit is or what it should be…I'm not in this for the money. I genuinely care about every single person that is a part of this team. If I take home a little less but I've managed to show my employees that I mean it when I say that they are the biggest asset in this company then I know I've done my job," says Baldwin.
Yet in 2011, it's still the rarity for an employee to be with a company for 20 years, it begs the question, what about the next 20? "I don't know about that," laughs Abersek, "I don't know what the future has in store for me. I love what I do, the people I work with and I guess that's why time has flown by. You've got to love what you do and have pride in the smallest of details. Of course it helps when you feel that you are truly a part of a team and not just another cog in a wheel. I tell the young guys all the time to remember that, if you don't love what you do you should move on, life's too short."
About HartmanBaldwin - HartmanBaldwin Design/Build has been remodeling and restoring homes in for over 30 years. It has won over twenty-five local and national awards for design and building, including the Gold Nugget Grand Award, sponsored by the Pacific Coast Builders Conference and Builder Magazine; several Renaissance Design Competition Grand Awards, sponsored by the NAHB Remodelers Council and Remodeling Magazine; and numerous Architectural Commission Excellence in Design Awards.
For more information please visit HartmanBaldwin.com and follow our blog at http://hartmanbaldwin.blogspot.com/
###