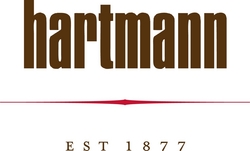 Lebanon, TN (Vocus) June 6, 2008 -
In celebration of the 50th anniversary of one of the world's most recognized luggage lines, Hartmann Inc. is proud to announce the release of their newly enhanced Walnut Tweed Luggage Collection. As a leader in the travel goods industry, Hartmann Luggage appreciates the opportunity to upgrade this sophisticated line, making it even more durable and stylish.
"Along with the overall exceptional quality of our luggage and leather goods, the traditional elegance of the original Tweed Collection significantly contributed in establishing Hartmann as a distinctive American classic in the worlds of fashion and travel," said Ken Hinman, Hartmann's vice president of sales, product development and marketing. "We wanted to honor this global luxury brand, reenergizing it with new features while maintaining the heritage of quality for which all Hartmann products are known."
The new pieces include many favorites from the timeless Tweed Luggage Collection, but with significant technical and stylistic improvements:
Patent-pending Flat Packing System - The Hartmann Luggage flat packing system was engineered with extruded glass filled fiber carbon tubes that can withstand the normal wear and tear of traveling without being inside the case. They removed the handles tubes from the interior packing area so you start with a flat surface and can pack without wrinkles.
Patent-pending Duracore Outboard Wheel System - The wheels are pushed out as far to either side as possible, so the suitcase has a wider stance and is more stable in turns and easier to maneuver through airports. The new Duracore wheels are also made with a nylon core for strength and a polyurethane over-molded tread that reduces noise, runs smoother over bumps and wears longer than conventional tread over-molds.
MT3 Technology - Hartmann Luggage has engineered their frame to be the lightest and most durable frame in the industry. The frame can take severe blows and crushing without damage to the frame, suitcase or its contents. The unique design of the frame adds strength to the points where needed, and is designed to work with all of the outer custom components of the Hartmann suitcase.
Global Recovery System (GRS) - The heart of the GRS program is the 12-character individual ID and barcode tag that is permanently attached inside bag. Once you purchase and register a bag, this unique ID is entered into Hartmann's database along with your name and address. When a lost bag is reported, Hartmann Luggage will match the 12-character individual ID from the GRS tag with the name and address in the database. They will notify, arrange pickup, and then arrange for return of the bag at no cost.
New Aged Industrial Belting Leather - Pre-aged to a beautiful patina and more consistent color. Natural fat liquors are hot stuffed deep into the stronger and more durable leather. Natural top grain and luster finish gives the leather a more luxurious look and feel.
Ergonomic Comfort Shoulder Strap - This contoured non-slip shoulder strap distributes the weight of your case evenly over your shoulder. The neoprene padding helps to absorb shock, reduce pressure, and helps you maintain proper posture while it massages your shoulder. It is both adjustable and detachable.
Hartmann Luggage, one of the country's most luxurious and established luggage and leather goods manufacturers, recently celebrated its 130th anniversary. For more information about the fine travel carriers and leather business cases, visit http://www.hartmann.com.
About Hartmann Luggage:
Since 1877, Hartmann Inc. has developed, manufactured and marketed the finest luggage and leather goods to meet the travel and business needs of those who appreciate American luxury. Headquartered in Lebanon, Tenn., Hartmann distributes and sells its luggage, leather business cases and personal leather accessories in the United States and internationally through finer department and specialty luggage stores. Hartmann Luggage is owned by Clarion Capital Partners, LLC, a New York–based private equity firm investing in the consumer products, specialty retail, business services, healthcare services, specialty financial services and niche media/entertainment industries. Additional information about Clarion may be found at http://www.clarion-capital.com.
Contact:
Samantha Owens
Gish, Sherwood & Friends
615-385-1100
###