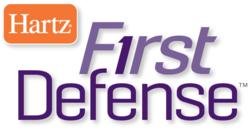 Just like Frontline® Top Spot®, Hartz® First Defense™ contains Fipronil, an active ingredient designed to be fast acting and long lasting.
SECAUCUS, NJ, (PRWEB) April 15, 2013
When it comes to flea and tick control, pet owners have been using The Hartz® Mountain Corporations' products for over 50 years to keep their animals happy and healthy. Now, the new First Defense™, a new flea and tick topical product contains the #1 vet-recommended active ingredient, Fipronil*. This line of products includes topical drops for cats and dogs to protect them from fleas, ticks and chewing lice.
Just like other leading brands, Hartz First Defense contains Fipronil, an active ingredient designed to be fast acting and long lasting. First Defense™ is waterproof and prevents flea re-infestation to give pet owners peace of mind.
All E.P.A. approved topical flea and tick products sold through retail channels are held to the same safety and efficacy standards as those brands purchased from veterinarians. The key difference is that Hartz First Defense provides effective results without a prescription, making this method of flea and tick control a convenient alternative for pet owners. Hartz First Defense is more affordable than other brands of flea and tick protection. And best of all, it's made in the U.S.A.
As the temperatures begin to rise, fleas and ticks become more active and pose a problem for pet owners across the country. Hartz First Defense is now available at grocery stores, drug stores and mass retailers, just in time for the beginning of flea and tick season.
Hartz First Defense Topical Treatment for Cats and Kittens can be used on kittens 8 weeks of age or older. Similarly, Hartz First Defense Topical Treatment for Dogs is suitable for use on dogs older than eight weeks and is available in four different weight classes, from 5 lbs. to 132 lbs. Its waterproof, long-lasting formula is sure to win over the hearts of pet owners everywhere. Furthermore, consumers will love the cost savings and the easy-to-use applicator.
About Hartz® Mountain Corporation
For more than 85 years, Hartz® has been dedicated to strengthening the bond between humans and their pets through innovative, trustworthy and affordable products. The company is also intent on providing pet owners with the information and support they need to care for their pets. Today, Hartz® offers more than 1,500 products that cater to dogs, cats, parakeets, canaries, parrots, cockatiels, finches, goldfish, tropical fish, reptiles, ferrets, chinchillas, guinea pigs, hamsters and rabbits.

Frontline®, Merial® and Top Spot® are registered trademarks of Merial. All Rights Reserved.