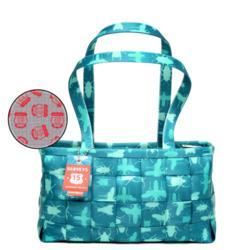 The new Magenta and Lagoon colors are perfect for summer, giving a bold & vibrant look!
Glens Falls, NY (PRWEB) May 23, 2012
Harveys released new patterns and colors for the Summer, including a limited edition bag that is sure to turn heads. To celebrate their 15th Anniversary, Harveys brought back the first print ever used, the SeatbeltBug. The bag features the new color Lagoon, which is a vibrant and eye catching shade of blue and is filled with random bugs throughout the bag. The Limited Edition 15th Anniversary Large Satchel Seatbeltbug is currently available for $138.
The Magenta colored seatbelt bags are a vibrant and bold shade of purplish pink. Harveys is offering the new color mostly in totes but also a large satchel, a wallet and a make-up case, same goes for the new Lagoon colored products. There is also a new Black & White Patchwork print that will appeal to those who love to wear black, white and grey colored clothes. Another unique release is the Bamboo Stella Hobo bag which features an espresso colored bag with bamboo handles.
First time customers at Kerry Lyn's Boutique enjoy a generous discount on Harveys products. Nearly all Harveys products qualify for free shipping as well for additional savings making it an excellent place for all of your seatbelt bag needs. Be sure to check out all of the available seatbelt accessories, such as iPad covers, Kindle sleeves, wallets, makeup bags, portfolios and more.
Kerry Lyn's Boutique also offers Vera Bradley, Baggallini, Crabtree & Evelyn, candles and jewelry in addition to the Harveys product line. Kerry Lyn's Boutique is located in Glens Falls, NY in Aviation Mall and also has sister stores in Colonie Center and Crossgates Mall, called 25 Silver.