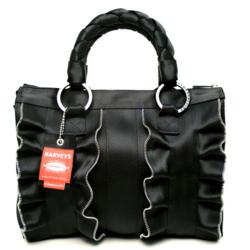 Kerry Lyn's Boutique offers online customers a 15% coupon code on their first Harveys purchase.
Queensbury, NY (PRWEB) May 20, 2012
Kerry Lyn's Boutique is offering customers a one time use coupon code on Harveys seatbelt bags. Take advantage of a 15% discount (code: Harveys15off ) and just about all Harveys products qualify for free shipping as well.
Harveys handbags are created using automotive grade seatbelts making them durable and fade resistant. Only top of the line YKK zippers are used for easy opening and closing, while minimizing fraying of the bag. Heavy duty rivets are used as the feet of the bag to help keep the bottom of the bag cleaner for longer periods of time. Pockets are seemless and industrial grade sewing machines are used with NASA grade nylon for maximum quality and durability. Harveys bags carry a lifetime guarantee on manufacturers defects and also offers a cleaning service at a minimal charge.
The seatbelt bags come in a wide variety of styles, sizes and colors making it easy to find a bag that fits anyone. Harveys products make for wonderful gift ideas and are sure to last a lifetime! In addition to Harveys, Kerry Lyn's Boutique offers a large selection of Baggallini bags, Vera Bradley, Crabtree & Evelyn, Bluewick Candles and jewelry supplied by their sister company 25 Silver Boutique.