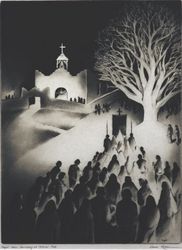 This summer, Taos, New Mexico, is offering as it travel education theme, "Return to Sacred Places" dozens of events, workshops, outings, tours and exhibitions that gets to the core of what this magical, enchanted region has to offer.
Taos, NM (Vocus) June 9, 2010
This summer, Taos, New Mexico, is offering as it travel education theme, "Return to Sacred Places" dozens of events, workshops, outings, tours and exhibitions that gets to the core of what this magical, enchanted region has to offer.
On June 26, The Harwood Museum of Art of the University of New Mexico is opening four exhibitions that explore this theme.
A Hidden Treasure in Southwestern Art is Uncovered in "Gene Kloss: From Berkeley to Taos"
Work of the printmaking virtuoso from 1924 to 1985
Joyce and Sherman Scott Gallery of Late 20th Century Art
Alice Geneva "Gene" Glasier (1903-1996), National Academician, was born in Oakland, California in 1903. For more than six decades she documented the people and cultures of the Southwest with exquisite skill, profound respect, and an undeniable spirituality. It was because of these special qualities that she was welcomed by Native American and Hispanic communities and allowed to witness rarely seen ceremonies. Due to her meticulous observation and recollection, she provided the world with an insight into these culturally significant, often private customs.
The Harwood exhibition, "Gene Kloss - from Berkeley to Taos" follows Ms. Kloss' chronological life-long journey featuring a showing of the artist's early years from 1924-1933, her Colorado years from 1965-1970, and finally, her largest body of work that she created in Taos after 1970. The works document Kloss' travels and particular interests in California and the American Southwest during the first part of the 20th century, and her growing proficiency in the intaglio print process. Prints, paintings, charcoal drawings to pencil, ink portraits and sketches will all be featured.
Return to Sacred Places & Taos Pueblo Photographs Paired in Two Exhibitions at The Harwood Museum
Paintings by the Taos Founders and photographs of Taos Pueblo from 1875 get to the heart of the Taos experience
Dorothy and Jack Brandenburg Gallery of Early 20th Century Art
George F. Foster Jr. Gallery for Prints, Drawings and Photographs
In keeping with the "Return to Sacred Places," theme selected by the Town of Taos for the 2010 travel season, The Harwood Museum of Art presents a showcase of masterworks from its collection, focusing on the Taos Founders and their painterly interpretations of sacred places in Northern New Mexico.
During the first part of the 20th Century, the landscape and native cultures of Taos attracted artists. These are the artists who came to Taos in search of nature over technology, and eloquently portrayed the sacredness of the landscape and the indigenous cultures.
Victor Higgins, (1884-1949), "Winter Funeral" represents the theme of the town and holds a sacred place for the museum. Long considered a landmark piece of the museum collection, "Winter Funeral" was originally hung above the fireplace by the artist himself. This piece will be featured along with work by Joseph Henry Sharp, E.I. Couse, Bert Geer Phillips, Ernest L. Blumenschein, Oscar Berninghaus, Victor Higgins, and Walter Ufer.
Paired with this exhibit is Taos Pueblo Photographs, images made from 1875 to the present.
Taos Pueblo, now a UNESCO World Heritage Site, has been a magnet for photographers since shortly after the invention of photography in France in 1839, and this exhibition of original, rare photographs has been collected piece by piece over nearly two decades.
The exhibition moves into the 1940s with works by Ernest Knee, (1907-1982), and has works by the contemporary photographers William Davis, Gus Foster, Douglas Kent Hall, Bernard Plossu and the Taos Pueblo photographer, Bruce Gomez.
Sacred Navajo Sandpaintings, Rendered in Wool
Ritual Paintings for the access of Divine Healing
Peter and Madeleine Martin Foundation Gallery for Changing Exhibits
Sandpainting has long been utilized by various cultures as a means of accessing divine healing powers. These are often temporary, ritual paintings prepared for religious or healing ceremonies. In the United States the Native Americans in the Southwest are the primary practitioners (the most famous of which are the Navajo). The Navajo term for sandpainting is iikaah, "place where the gods come and go." The intended result is a balanced, harmonious and healthy relationship with the Holy People.
Because sandpaintings are viewed as spiritual temporal communication portals, and represent graphic and sacred renderings of the Navajo's religious world, the work is more of a temporary altar and not at all considered a work of art. For the Navajo, it would seem strange and inappropriate to view a sandpainting as two-dimensional art because, in its proper place, the sandpainting is the powerful and sacred center of their universe.
The ceremonies involving sandpaintings are usually done in sequences, termed 'chants,' lasting a certain number of days, depending on the ceremony. At least one fresh, new sandpainting is made for each day. Typically, a single sandpainting is created, utilized and destroyed within a 12-hour time frame. The work is considered toxic after the ceremony has been conducted and the patient is once again "in balance."
In 1896, the first sandpainting rug was woven in Chaco Canyon. Several more rugs were woven between there, the fate of which are unknown. No information is available on these rugs, but there is strong evidence that their existence created dissent — supposedly resulting in the cessation of production of sandpainting tapestries for a number of years.
Harwood Museum of Art, 238 Ledoux Street, Taos, New Mexico, 87571; 575-758-9826
###