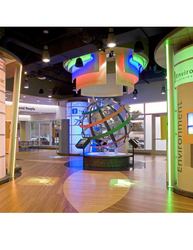 Since our green initiative began in 2000, we have integrated our experienced team of design and construction personnel on nearly every project to strategize, design, construct, document and obtain LEED® certification
Jacksonville, Fla. (Vocus) September 30, 2010
The Haskell Company was recently ranked the No. 1 Green Industrial & Manufacturing Design Firm and the No. 1 Green Manufacturing & Industrial Contractor for the third consecutive year by Engineering News-Record magazine. The firm also ranked No. 19 in the nation for overall Green Design Firms. Engineering News-Record magazine is the construction industry's leading publication covering news and features on projects, products and people.
The magazine based the 2010 rankings on revenue for design and construction services generated in 2009 from projects that have been registered with or certified by a third-party organization, such as the U.S. Green Building Council or similar organizations, that set standards for measuring a facility's environmental impact, energy efficiency or carbon footprint. In 2009, Haskell reported more than $36.5 million in design revenue from sustainable projects with $20.6 million of that revenue coming from the industrial and manufacturing sectors. It also reported $249 million in revenue for its construction services in the green manufacturing and industrial industries.
"We employ more than 100 LEED® Accredited Professionals and have completed nearly 25 projects that have been certified under LEED® design standards, which is a testament to our commitment to creating sustainable facilities for our clients," said Jim O'Leary, Haskell Group President. "This is the third consecutive year we have been recognized by Engineering News-Record and we are honored to be among the Top 20 designs firms in the nation practicing the principles of green building and design."
Haskell has served as the design-build firm on a number of prestigious LEED®-certified facilities throughout the U.S., including the LEED® Platinum Pepsico Chicago Sustainability Center, LEED® Gold Frito-Lay Jim Rich Service Center, LEED® Silver Nike U.S. Footwear Distribution Center and LEED® Certified Ice Mountain Water Bottling Plant, among many others. Haskell also has a number of projects underway that are being built to achieve LEED® certification, including several facilities for the U.S. Navy and other branches of the military throughout the United States.
"Since our green initiative began in 2000, we have integrated our experienced team of design and construction personnel on nearly every project to strategize, design, construct, document and obtain LEED® certification," O'Leary said. "In the overall construction industry, green design revenue rose more than 12 percent in 2009. This is a market that will continue to grow over the years because of its sound principles and outstanding results."
More information about Engineering News-Record's Top 100 Green Design Firms and Top 100 Green Contractors is available online at http://www.enr.construction.com. More information about Haskell's sustainable building practices is available online at http://www.haskell.com or by calling (904) 791-4500.
About Haskell
Haskell is one of America's leading integrated design-build firms practicing in the general building and civil infrastructure markets. The company has 2009 revenues of approximately $500 million with offices in the United States and Mexico. More information can be found at http://www.haskell.com or by calling one of its offices:
Jacksonville, FL (904) 791-4500
Dallas, TX (972) 731-0800
Mexico City (011) (52) (555) 292-6580
CONTACT: Amy Ogden at (904) 280-7960 or amy(at)clockworkmarketing(dot)com
COMPANY CONTACT: Jim O'Leary at (904) 791-4682 or jim(dot)oleary(at)haskell(dot)com
# # #