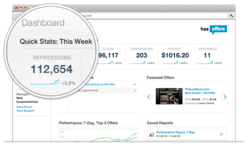 Seattle, Washington (PRWEB) April 10, 2013
HasOffers, the industry's leading solution for tracking performance advertising, is excited to announce the launch of a new Publisher Interface, currently available in private beta for existing HasOffers customers. This new Interface offers a sleeker, more intuitive experience for publishers and affiliates of HasOffers clients. With new javascript libraries and responsive design, this new interface is more lightweight and efficient, providing not only a better desktop experience, but also one that is mobile-responsive.
"The most important part of our application is that it is highly functional. When we first launched our products in the market, competing software was difficult to use. We've always taken the approach that finding the right page quickly, and making each report the most flexible, is more important than having a long list of individual report types. We're trying to keep that same attitude as we move to new technologies by focusing on what's most important to our customers," says Peter Hamilton, CEO, HasOffers.
In addition to a complete new design, HasOffers' new Publisher Interface includes three new interactive graph types - linear, pie, and bar graphs - that publishers can choose from to visualize stats, and can also include multiple data points like clicks against conversions and impressions. Publishers can also highlight any portion of these graphs to expand upon a certain time period to view more detailed information about performance during this duration. The grid that supports all the data is the most advanced grid HasOffers has released to date and fully expands across any screen size.
This new release features an offer search that enables publishers and affiliates to more easily search offers that a network and/or advertiser has made available. Publishers can search by payout amount, payout type, country or category as well as filter results by offer category, payout range, country, and more.
Most importantly, the new design is mobile-responsive and was written in Angular JS, a javascript framework written by engineers from Google which enables developers to write rich web applications. HasOffers' new Interface is a single-page javascript application, so when affiliates load their browser they will first get a set of templates and logic, but instead of reloading the entire site on every click, a new click generates a small AJAX request that can be rendered quickly, significantly reducing the time it takes to load each page. The use of Angular JS ultimately means the new Interface is significantly faster than any previous version.
HasOffers is also powering this application with a new version of their API that will be available for publishers and affiliates in the near future.
"This Publisher Interface update represents a big step forward in our technologies overall," says Hamilton. "Traditionally publisher interfaces are the last thing to be updated. By making this our primary focus, we have built a Publisher Interface that is more powerful than any other publisher dashboard you've seen, which will provide the highest incremental value for our clients and their publishers. If you've spent any time using industry standard Publisher Interfaces, you know an update has been long overdue. We're very excited to be one of the first to step forward and deliver a next generation Publisher Interface that meets the growing needs of performance marketers."
About HasOffers
HasOffers is a software as a service company, providing the industry's leading solution for tracking performance advertising. The products we provide are simple, scalable, and open for development. We believe that better tracking technology in the hands of more people will only expand and educate the performance marketing industry, resulting in more brands investing more money with the best affiliates, publishers, and partners. Learn more about HasOffers and our products: http://www.hasoffers.com & http://www.mobileapptracking.com