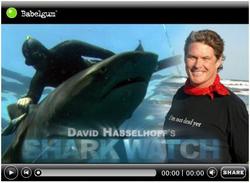 This is my first ever encounter with a tiger shark - the second most feared shark in the ocean to the Great White. We're in open water, there's no cage and no way out. And no telling how many more there may be arriving...
London, UK (PRWEB) September 9, 2009
The Underwater Channel, a global web TV channel powered by Babelgum, launched David Hasselhoff's Sharkwatch three part webisode series today. The series was recently filmed at Aliwal Shoal in South Africa with David Hasselhoff and The Underwater Channel's resident shark expert presenter, Mark Addison. Addison mentored the Baywatch star and America's Got Talent! judge Hasselhoff in shark behaviour encouraging him that it might even be possible to hand-feed a tiger shark! Hasselhoff, a keen diver was aware of the undeserved bad press surrounding sharks and cautiously accepted this challenge. The Hoff agreed to do this in the hope that it would help change the public's opinion of sharks and focus attention on their endangered status. See Fast Shark Facts attachment for further info.
Go shark diving with David now:
David Hasselhoff's Sharkwatch Part 1: Shark Infested Waters
David Hasselhoff's Sharkwatch Part 2: Dare I Feed a Shark?
David Hasselhoff's Sharkwatch Part 3: Indiscriminate Killers?
To embed and/or watch the PROMO David Hasselhoff's Sharkwatch promo click here.
Nicholas Claxton, Emmy award-winning Founder of The Underwater Channel said "I'm really proud of David's commitment to this major issue. He's embraced it with tremendous courage and it's resulted in a high adrenaline film! Blue is the new green and David is a passionate advocate of the oceans. In making this shark diving film with us I hope his enthusiasm will help draw the attention of a wider audience to the issues that threaten these magnificent apex predators."
About The Underwater Channel:
The Underwater Channel.tv is a global web TV channel for divers and 'armchair' divers dedicated to bringing the mysteries of the deep to the surface. Oceans of underwater videos from marine life, conservation to wrecks, freediving and sharks can be enjoyed. By bringing the experience of diving into people's homes through a dedicated web TV channel, The Underwater Channel fulfills a 24/7 need for divers to pursue their passion and for the broader audience of 'armchair divers' to interact with life underwater - covering the other four fifths of the planet".
The Underwater Channel is powered by Babelgum,an established destination for high quality programming and major independent film releases.
Hasselhoff's quotes:
"This is my first ever encounter with a tiger shark - the second most feared shark in the ocean to the Great White. We're in open water, there's no cage and no way out. And no telling how many more there may be arriving..."
"She opened her huge mouth wide, Very wide. All I could see were rows of very white razor-sharp teeth, and I held out the bait hoping that would be enough to keep her happy."
"Nothing had quite prepared me for this - the closest we got to a shark on Baywatch was a stunt man in a shark costume."
"As I watched the sharks swimming and feeding, I was reminded over and again that they are not the real predators - we are."
"However just think about the fact that only around 4 people actually die every year from shark related incidents as opposed to 750 people who die from toaster related incidents !! You're therefore around 190 times more likely to be killed by a toaster than by a shark!"
Fast Shark Facts:
Shark specialists estimate that approximately 100 million sharks are killed for their fins, annually. Once the fins are removed from the shark carcass the live body is thrown overboard to endure a slow and painful death. Longlines, used in shark finning operations, are the most significant cause of losses in shark populations worldwide. A longline is an indiscriminate fishing line that extends to as long as sixty miles! Baited hooks hang off it every 100ft. Sharks receive no protection in the worlds open seas where they suffer mass exploitation. Shark finning violates the United Nations Food and Agriculture Organization's Code of Conduct for Responsible Fisheries. The market for shark fin soup is growing by around 5% a year. Shark fin soup is a tasteless soup, consumed for cultural reasons that are insignificant and unnecessary.
Act Now!
Public support helped cease the practice of whaling and public support and public support is much needed by conservation organizations acting to protect shark stocks.
For longer version of Fast Shark Facts see the attachment:
Watch David Hasselhoff's Sharkwatch and underwater videos now.
###