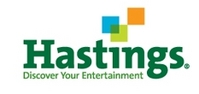 Movie fans have lined up to get The Blind Side and are eagerly awaiting Sherlock Holmes this coming Tuesday
Amarillo, Texas (PRWEB) March 26, 2010
Be the first to rent or buy Warner Bros. releases The Blind Side(available now) and Sherlock Holmes (available Tuesday, March 30th) at all Hastings Entertainment stores. Every Hastings store has at least 100 copies to rent and there are plenty of copies if customers want to own one. According to a Wall Street Journal article from Feb 28, 2010, "Redbox customers won't be able to rent new Warner Bros. DVDs until 28 days after their release."
"Movie fans have lined up to get The Blind Side and are eagerly awaiting Sherlock Holmes this coming Tuesday," said Victor Fuentes, Vice President of Movies, Books and Electronics at Hastings. "It's really important for Hastings to offer The Blind Side and Sherlock Holmes DVDs and Blu-Rays when the doors open on release day. We take great pride in having a huge movie selection on day one and we know our customers expect the latest releases in our movie departments every week," said Fuentes.
About Hastings
Founded in 1968, Hastings Entertainment, Inc. is a leading multimedia entertainment retailer that combines the sale of new and used books, videos, video games and CDs, as well as trends and consumer electronics merchandise, with the rental of videos and video games in a superstore format. We currently operate 147 superstores, averaging approximately 21,000 square feet, primarily in medium-sized markets throughout the United States.
We also operate goHastings.com, an e-commerce Internet Web site that makes available to our customers new and used entertainment products and unique, contemporary gifts and toys. The site features exceptional product and pricing offers. The Investor Relations section of our web site contains press releases, a link to request financial and other literature and access our filings with the Securities and Exchange Commission.
Hastings Entertainment is a publicly traded company on NASDAQ under the symbol HAST.
For more information, please contact Hastings Public Relations, Cherie Norman at (806) 677-1482
###