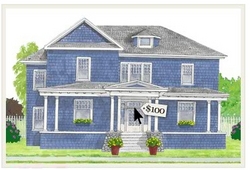 San Francisco, CA (PRWEB) December 2, 2009
An interactive gift registry, Hatch My House (HMH), allows couples and individuals to collect and save money towards a home in a unique and personal way. Using the graphic image of a house, visitors donate towards their family member's or friend's house fund by purchasing a part of that house such as a window, the front door or even a set of wineglasses! Visitors get to have fun while donating and users get to design, visualize - and hopefully realize - their 'dream' home!
HOW IT WORKS Following five simple steps, users set up a registry towards a home.

To begin, in step 1, users write a welcome note to their visitors describing the goal of the house fund – whether that be a down payment, home improvements or even furniture.
In step 2, users customize their 'dream' house, selecting their desired setting, style - craftsman or brownstone (with more on the way) - and color.
Users finalize their registry in step 3 by linking their new or existing PayPal account to HMH. By completing a simple form verifying their PayPal email, they're ready for step 4 - to publish their registry.
In step 4 users pay a one-time sign up fee of $24.95 to publish their registry and get directed to their personalized URL link.
By copying this link, in step 5, users direct family members and friends to their registry - and starting saving towards a home immediately!
HOW IT COMPARES By using Hatch My House, users take advantage of PayPal, reaping the benefits of being aligned with a 10-year money transfer service business and a built-in security infrastructure, which includes data encryption and fraud prevention tools.
Users also benefit from lower transaction fees in comparison to other online gift registries; Paypal's transaction fees are some of the lowest in the industry at 2.9% plus $0.30. In addition, HMH gives visitors the option to pay the transaction fee for the user, so some may never see such fees applied to their gifts!
WHO USES IT Hatch My House can be used by anyone who wants to save money for a home, but may especially interest engaged couples planning a wedding and saving for a down payment. Additionally, families in need of home repairs caused by a natural disaster can benefit from Hatch My House.
HMH registries often accompany an event such as a wedding, fundraiser, birthday or holiday celebration.
THE CREATORS BEHIND IT Rieve and Erin-Marie MacEwen developed the idea for Hatch My House in the spring of 2008, just months after becoming engaged. Living together before getting married, as more than 50% of couples now do, they realized they did not necessarily need the things listed on a typical wedding registry. The thing they needed most was help with a down payment on a home. Living in San Francisco, a down payment seemed to be an unobtainable goal. However, they thought with a small start from friends and family their goal might actually be reached.
With help from family, friends, the business community and web development firm, SaberLogic, Rieve and Erin-Marie launched Hatch My House for personal use just days before their April 2009 wedding. In a little more than six months, they were able to save a few thousand dollars towards their future home using the gifts from their HMH registry. Now, they hope to give others the same opportunity by launching Hatch My House for public use.
For more information on HMH, visit http://www.hatchmyhouse.com, read customer testimonials or check out an example registry.
###