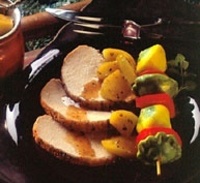 Pork tenderloin is so flavorful and versatile, it can help take the boredom out of low-fat diets – and it has a lot of the nutrients you need in your daily diet
HATFIELD, Pa. (PRWEB) September 14, 2008
October is National Pork Month, which recognizes that centuries old industry full of delicious tradition. And helping feed that need is family-owned Hatfield Quality Meats. For fall, the company recently introduced the new Autumn Spice Ham Steak and Virginia Brand Ham, in addition to new pre-marinated entrees such as Sweet Brown Sugar Ham Steaks and Lemon Garlic Pork Loin Filets.
"Pork tenderloin is so flavorful and versatile, it can help take the boredom out of low-fat diets – and it has a lot of the nutrients you need in your daily diet," said Eric Haman, a spokesman for Hatfield.
A recent USDA study reveals six common cuts of fresh pork are leaner today than they were 15 years ago – on average about 16 percent lower in total fat and 27 percent lower in saturated fat. But less fat doesn't have to mean less flavor, according to Haman. To keep your lean pork moist and flavorful, try using an instant-read thermometer, or marinate your favorite cut before cooking – many marinades add flavor without a lot of fat. And stuffing your chop with fruit or using a spice rub are other ways to boost the flavor.
Here are some additional facts:
A recent study published in the journal "Obesity" revealed that including protein from lean sources of pork in your diet – like Hatfield's new marinated pork loin filet – could help retain more lean body mass (including muscle) while losing weight. In fact, tenderloin is the leanest cut of pork with only 2.98 grams of fat per 3-ounce serving, making it as lean as a skinless chicken breast. While low in fat, pork also contains important nutrients such as Thiamin, B-vitamins, phosphorus and zinc. Lean pork, such as chops and ham, is recognized as a nutritious choice in the Meat & Beans Group on the USDA's MyPyramid. Many pork cuts are great source of high-quality protein. Protein provides a feeling of fullness at meals, which can help make you feel satisfied without overindulging at the dinner table. (When shopping, make sure to look for lean sources of pork with the word "loin" in the name, such as pork tenderloin or loin chop.) Pork's perfect for low-carb diets. To keep fat and saturated fat intake down, experts recommend choosing lean sources of protein, such as lean pork. ROAST PORK LOIN WITH APPLES AND CINNAMON
  Preparation Time: 10 minutes
Cooking Time: 60 minutes
  1 1/2 lbs. Hatfield Simply TenderTM Pork Roast, any variety
2 apples, cored, peeled, and sliced into wedges 1 tablespoon olive oil 1 teaspoon black pepper, ground 1 teaspoon ginger, ground 1/2 teaspoon nutmeg, ground 1/2 teaspoon cinnamon, ground 1/2 cup dry white table wine 1/4 cup honey 1 tablespoon lemon juice DIRECTIONS       1.   Rub pork loin with olive oil, pepper, HALF of the ginger, nutmeg, and cinnamon. 2. Combine the other half of those spices with the wine, lemon juice and honey; stir in the apple wedges. 3. Preheat oven to 350°F.
4. Place pork in shallow baking pan. 5. Roast to an internal temperature of 160°F., about 40 minutes.
6. Remove from oven, cover and keep warm; let rest for 10-15 minutes. Reserve all juices. 7. Heat apple mixture to a boil. Reduce heat to a simmer. 8. Cover and simmer until apples are tender, about 5 minutes. 9. Add any pork juices, simmer a few minutes more. 10. Remove from heat. Slice pork loin; arrange on plates, pour warm sauce over slices, garnish with apples.   Servings: 6 For more tips, recipes and special offers, visit HatfieldQualityMeats.com.
NOTE TO EDITORS: Hi-res images are available for publication at http://share.redtettemer.com/HQM_PR
MULTIMEDIA GALLERY http://www.businesswire.com/cgi-bin/mmg.cgi?eid=5778203