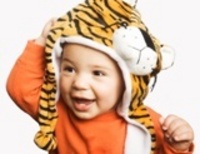 New York, NY (PRWEB) October 9, 2009 -
Buddytops.com introduces a new line of adorable plush animal hats for children of all ages. Intended for warmth and daily wear, each Buddytop® also comes with a short lesson that teaches young kids honesty, perseverance, respect, and other merits.
Product information:

Unique designs that appeal to children's imaginations and sense of play.
Highest quality plush shell with soft inner lining.
Fun yet practical hats provide both warmth and comfort.
Fully washable for easy care and daily use.
Perfect for Fall, Winter, and early Spring.
Excellent gifts for Birthdays, Halloween, Christmas, or Hanukkah.
Available in sizes for ages 3 - 12.
Tailor crafted short, instructive lessons.
Buddytops come with individual serial numbered holograms that serve as proof of authenticity.
How To Buy:
Purchase directly from Buddytops.com.
Soon to be in fine boutiques and major retailers.
More About Buddytops ®:
Lilly the Dalmatian (Uniqueness): Lilly was always a tiny bit different from the other pups. She has spots where others don't, her ears are different colors, and she loves to run around and play while others just want to nap. To her, everyone is an individual, and made to have fun in their own way!
Darby the Piggy (Honesty): Honesty goes a long way on the farm, and Darby is as honest as a piggy can be. If you've done something wrong, even if you didn't mean to, and are scared to say something, think of Darby. You can always trust your new BuddyTop!
Milton the Wolf (Sharing): Milton isn't like those big bad wolves you read about in fairy tales. This fuzzy BuddyTop is your new magical companion who has lots of love and stories to share. Milton promises to be a loyal and faithful friend as long as you share with him, and others, too!
Benny the Bunny (Perseverance): Benny is your partner who knows that getting good grades is all about studying hard and doing your homework. So the next time you're stuck on a puzzle or a school assignment, put her on and let her perseverance help you, too!
Ah Wah the Panda (Adventure): Ah Wah comes from a far away land to make new pals, so make sure you take him out to meet all your friends! It's always an exciting adventure whenever you're with this world-travelling BuddyTop!
Stewart the Tiger (Courage): Stewart is a protector, who comes from an old family of fearless tigers. Whenever you're afraid, your new BuddyTop will always be there to give you the courage to overcome any obstacle!
BuddyTop Inc. sales office is located in Midtown Manhattan, New York.
Additional information on more BuddyTops can be found at Buddytops.com.
# # #