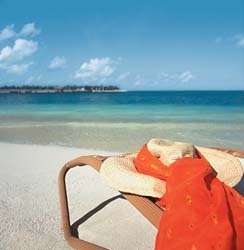 Hat Day in the Sun™
Chicago, Illinois (PRWEB) June 16, 2008
Wearing a hat is not only trendy and stylish, but it also can provide an effective means for sun protection.
The Headwear Association, which is celebrating its 100th year anniversary this year, is launching a "Hat Day in the Sun™" campaign on Friday, June 20 to generate public awareness of how the right hat can protect against skin cancer, premature skin damage and the advance aging process.
According to the Skin Cancer Foundation, 90 percent of all skin cancers are caused by sun exposure.
"There's a big push for consumers to wear sunscreen, but it is just as important to also wear a hat to protect against the sun," said Bob Broner, president of The Headwear Association. "A wide-brimmed hat will provide good shade to the face, back of the neck, eyes and ears."
A baseball cap is not recommended as it leaves the cheeks, ears and back of the neck exposed.
To be sure you are purchasing the right hat to protect against the sun The Headwear Association recommends the following tips to consumers:
Size - A hat with a minimum 2 ½" brim can provide adequate sun protection for the neck, face and ears.
Shape - Hat shapes that protect better against ultraviolet radiation (UVR) are ones that curve down to follow the contours of the head and neck.
Material - The material of a hat should be lightweight and breathable. Fabric should be a closed weave straw, raffia, cloth, or felt.
For more information about The Headwear Association or Hat Day in the Sun, please visit http://www.theheadwearassociation.org or call Susan Weiss, SWPR at 312-282-1337.
###