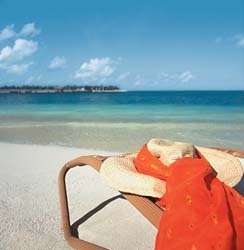 Wearing a hat is a not only fashionable, but is a good defense against the risk of skin cancer.
Chicago, IL (PRWEB) July 15, 2008
According to recent government statistics, new melanoma cases has risen significantly especially for young women in the United States.
Melanoma is the most serious form of skin cancer and has increased more rapidly than any other form of skin cancer during the past 10 years. With nearly 60,000 cases and 8,000 deaths occurring each year in the United States melanoma has reached epidemic proportions.
In light of these findings, The Headwear Association, a 100 year-old organization, acknowledges that while wearing a hat is not a stand alone solution to combat skin cancer, wearing a broad-brimmed hat goes a long way toward preventing skin cancer in often-exposed areas like the neck, ears, scalp, and face.
"Ninety percent of all skin cancers are caused by sun exposure," said Bob Broner, president of The Headwear Association. "Wearing a hat is a not only fashionable, but is a good defense against the risk of skin cancer."
The Headwear Association further recommends that in choosing the right hat for sun protection to keep in mind the size, shape and materials of the hat.
Size. A hat with a minimum 2 ½ inch brim that extends all around the hat will help guard against the sun's ultraviolet rays and provide adequate sun protection for the neck, face and ears. Baseball caps and visors shade the face but leave neck, lower face, and ears exposed.
Shape. Hat shapes that protect better against ultraviolet radiation (UVR) are ones that curve down to follow the contours of the head and neck.
Material. The material of a hat should be lightweight and breathable. Fabric should be a closed weave straw, raffia, cloth, or felt. The tightness of the weave, the weight, type of fiber, color and amount of skin covered all affect the amount of protection they provide.
For more information about The Headwear Association, please contact Susan Weiss, SWPR at 312-222-1337 or susan @ swpr.biz.
###