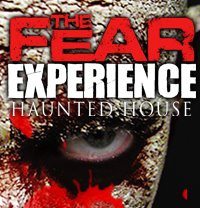 ...one of the only haunted houses where the creatures WILL touch you!
(PRWEB) August 13, 2012
Experience a New Location for 2012
The Fear Experience is no stranger to the Cleveland area and it's back again this year with all new thrills and chills! Now located at 10701 Brook Park Road, Parma, Ohio in a building with over 90,000 square feet available to create the most horrifying scenes possible. The Fear Experience is one of the best Cleveland haunted houses and will be open for business in their new location starting September 21 and will be open every Friday and Saturday night during October from 7pm to midnight!
A general admission $15 ticket purchase gains a guest entry into three of the scariest haunted houses in Cleveland, Ohio. All three haunted houses are designed by professionals and the set changes every year! Inside all houses, guests will experience scenery that rivals the best horror movies! Each of these sets contain extreme scenes with all new evils lurking in the shadows, just waiting for the perfect moment to strike. One of the haunted houses is a pitch black maze that guests will have to find their way through, while avoiding the creatures of the dark and hopefully finding the light!
Take a Look at How It All Got Started
The Fear Experience started out as a charity attraction and has since transformed into one of Cleveland's scariest commercial haunted houses, well known by all in the industry. Not only does this haunted house bring to life your greatest fears, but it's also one of the rare gems in the industry where its professional actors can touch its guests, creating the ultimate scare. If customers think they have experienced a real scare before, then they better think again!
The Most Intense Attractions of the Year
One of the unique attractions that The Fear Experience has to offer is the opportunity to be buried alive! Guests will use each of their senses in this thrilling, six feet under attraction! Entry to this attraction is purchased separate from the haunted houses.
Another new feature to The Fear Experience this year is the 7,000 square feet of open space in an old, abandoned department store that will put all guests to the ultimate test: Zombie Paintball! Guests will be able to use a paintball gun to defend themselves through this open area where zombies lurk and wait to attack! Entry to this attraction is purchased separate from the haunted houses.
Also, this great Cleveland, Ohio haunted house will be selling concessions to all guests and there will even be an arcade! There is fun for all ages!
All sets are currently being designed and built. The Fear Experience is also currently hiring actors! If you are interested, please visit http://www.thefearexperience.com or call 216-245-3327 for more information.
Presale tickets can also be purchased at http://www.thefearexperience.com.