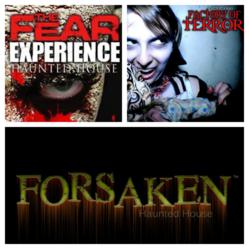 Ohio is home to the BEST haunted houses in the country!
(PRWEB) August 10, 2012
It is no secret that Ohio is home to some of the scariest haunted houses every year. This upcoming season will be one to compete with, as Ohio will offer a variety of haunted houses with the most intense scenes and over-the-top features. Many of these haunted houses have been working on new features to attract guests this season. The top three must-see haunted houses in Ohio include:
The Fear Experience (Cleveland)
The Factory of Terror (Canton)
Forsaken (Mentor)
The Fear Experience is now serving up the most intense screams as one of the only haunted houses where the creatures WILL touch you! See if you have what it takes to make it through the 3 one-of-a-kind haunted houses. If you do survive our haunted houses and are anxious for more, be sure to check out the newest and most unique attraction: Buried Alive. This attraction gives guests the opportunity to put their senses to the test as they are buried six-feet deep in a real coffin. Come experience the sights, sounds, and smells of your own funeral at the best of Cleveland Haunted Houses Lastly, The Fear Experience will place its guests in a 7,000 square feet abandoned department store with nothing but a paintball gun and natural instincts to see if they are able to survive a zombie apocalypse in the all new: Zombie Paintball. Entry to Buried Alive and Zombie Paintball are purchased separately.
The Factory of Terror pulled out the best surprises for the 2012 season. As the world-record holder for the longest haunted house two years in a row, making it to the end may be one of the greatest challenges a person endures. All new scenes and scares fill the halls of each haunted house this season, creating images that will continue to haunt guests long after they leave! If you are able to make it all the way through, then head on over to our newest attraction and test out your accuracy in "Dead On". Dead On is a paintball shooting gallery that allows guests to fight through the nightmare of a zombie apocalypse.
Forsaken's all new and improved scenery will give its guests the scare of a lifetime! Spending an immense amount of time updating all of its sets this year is what makes Forsaken one of the scariest Mentor haunted houses. The great attention to detail that Forsaken offers is what sets it apart from other haunted houses. Guests are placed as the center of attention in each deathly scenario. As guests journey through 3 of the absolute most wicked haunted houses in Lake County, they must remember one thing…screaming is only the beginning! This vintage 50's nightmare is guaranteed to deal out the 2012 horror that any brave soul is looking for.