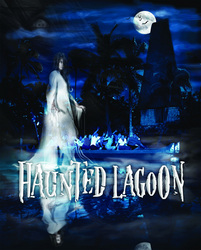 For visitors here during October - we promise to get you in the Halloween mood.
'ie, HI (Vocus) October 13, 2009
Lā Even more menacing than last year, the Lā'ie Lady is back, and she's not alone. Joined by even more spine-chilling ghouls and creatures than ever before, the Haunted Lagoon promises to be an unforgettable night of terror and excitement! Proven a success at its grand opening last Halloween, Polynesian Cultural Center's (PCC) Haunted Lagoon will launch its canoes once again to thrill-seeking visitors and locals alike come this October. Should you dare to step foot onto this spooky canoe ride, hauntings will begin October 2, and will depart periodically from 6:30 to 9 p.m. every Monday, Wednesday, Friday and Saturday through Halloween night.
Unlike a classic haunted house, the PCC's Haunted Lagoon takes guests on a spooky canoe ride that twists through the PCC lagoon under dark bridges and past ominous shadows where terrifying creatures await. You never know what may reach out from the depths below. If you are lucky, you may even catch a glimpse of the PCC's resident ghoul, the Lā'ie Lady.
Seen as a ghostly figure dressed in white, the Lā'ie Lady is a soul rumored to wander around the PCC only on the darkest of nights. Even after death, legend has it that she is still searching relentlessly for her missing child near the kapakahi tree, a mangled and twisted coconut tree along the canoe route, where sightings have been reported most often.
The Haunted Lagoon takes visitors on a spooky, meandering canoe ride through PCC's villages, where everything looks quite different at night - it's not for the faint of heart. In addition, families can choose to take the keiki (child) version of the ride that the whole family can enjoy. Snacks and spooky souvenirs will also be available for anyone who can stomach the frights and scares of the night.
"Our Haunted Lagoon is the only one of its kind in the islands and we thought it would be a fun way for visitors and kama'āina to celebrate the Halloween spirit with their friends and family," said Ray Magalei, director of marketing. "For visitors here during October - we promise to get you in the Halloween mood."
For more information, call Polynesian Cultural Center's ticket office at (808) 293-3333 or visit the PCC Haunted Lagoon website at http://www.HauntedLagoon.com .
Founded in 1963 as a non-profit organization, the PCC has entertained more the 34 million visitors, while preserving and portraying the culture, arts, and crafts of Polynesia to the rest of the world. In addition, the PCC has provided financial assistance to 17,000 young people from over 70 different countries while they attend Brigham Young University-Hawai'i. As a non-profit organization, 100 percent of PCC's revenue is used for daily operations and to support education.
###