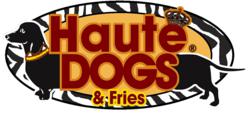 "Keep it simple, everyone loves a hot dog," - Dad
Alexandria, VA (PRWEB) January 22, 2013
"Keep it simple. Everybody loves a hot dog."
These frequent words of advice from her father inspired Pamela Swanson, along with partner Lionel Holmes, to open Haute Dogs & Fries in May 2010. Pamela and Lionel share a common visipon. Open a restaurant that gives families a fun time out together without putting a dent in their wallet. Their philosophy remains simple: provide exceptional taste at an exceptional value.
Now Haute Dogs & Fires will expand on their already creative menu adding a few surprise additions as well as some over the top rated "Haute" dog choice for their new 2013 Menu.
Haute Dogs & Fries offers a fresh take on the family dining experience, serving the same hot dogs found at Boston's Fenway Park. However, these aren't typical ballpark franks. Each hot dog is served hot off the grill on fresh, New England style buns and dressed with fresh toppings such as caramelized onions, sauerkraut, jalapeño peppers, mangoes, and Lionel's own homemade Chili recipe. Handcut french fries made from Idaho potatoes and sweet potatoes are a specialty at Haute Dogs & Fries and complement every dish.
Lionel and Pamela's approach is to seek out locally produced products from local vendors whenever possible. They are proud to serve the freshest sausages from Lothar's Gourmet Sausages of Hamilton and Fields of Athenry, located in Purcellville. Haute Dogs & Fries has a wide menu that includes bratwursts, kielbasas, and sweet Italian sausages.
Become a fan on the Haute Dogs & Fries Facebook page, stay tuned to @Haute_Dogs on Twitter, and visit The Haute Blog.
Haute Dogs & Fries provides a unique dining space for birthdays, graduation, or retirement party.