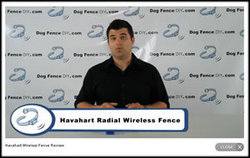 The rave review is all due to our engineering team, partners and their abilities to refine and enhance an advanced technology
Lititz, PA (Vocus) October 9, 2010
Dog Fence DIY ranked the Radial-Shape Havahart Wireless Dog Fence superior to other wireless dog fence systems because it has a more consistent boundary and a much faster collar response time for corrections.
In their testing, Dog Fence DIY found the boundary of the Radial-Shape Havahart® Wireless Dog Fence was up to 80% more precise than that of other wireless fences. The correction response time was also significantly more accurate, activating much more quickly when reaching boundary and stopping much more quickly when leaving the boundary.
Based on their testing, Dog Fence DIY determined that the Radial-Shape Havahart® Wireless Dog Fence outperformed the other wireless fences. Havahart® Wireless is "clearly number one," said Wes Riojas, General Manager at Dog Fence DIY.
"The rave review is all due to our engineering team, partners and their abilities to refine and enhance an advanced technology," said Rian Sweeney, the Marketing Associate on the Havahart® Wireless brand for parent company, Woodstream Corporation. "This is the world's first digital wireless dog fence that provides a Roaming Area that expands up to 11.5 acres. This is approximately 20 times more Roaming Area than that of the leading brand," Mr. Sweeney stated.
Quick Links:
Dog Fence DIY - Wireless Dog Fence Reviews
Dog Fence DIY - Radial-Shape Havahart Wireless Fence Review
About Havahart® Wireless
Havahart® Wireless and its partners successfully developed the latest generation in wireless dog fence technology: a circular dog fence that offers a roaming area that can expand from ¼ acre up to 11.5 acres. The brand will soon launch the world's first wireless dog fence that can be shaped to any yard. Both systems are designed to address the consumer's need for a reliable, user-friendly, economical fencing solution capable of providing an extended roaming area for a dog not found in the industry today.
Rigorous experimentation and validation were carried out by a team of engineers to ensure the reliability and high performance of both systems. Meticulous research uncovered how the products should look and feel in the hands of their owners, which dictated product design.
Havahart® Wireless brings an unparalleled level of technical sophistication to the industry. Havahart® Wireless – Stretching the Boundaries of Wireless Dog Fencing.
Havahart® Wireless is a registered trademark of Woodstream Corp.
For more information about Havahart® Wireless, please visit HavahartWireless.com
About Woodstream Corp
Woodstream Corp is a long-standing, privately held company and a leading manufacturer and marketer of quality-branded rodent control products, caring control products for pets and wildlife, natural solutions for lawns and gardens and wild bird feeding products.
Woodstream Corp has over a 150-year history of excellence, growth and innovation. It has built a strong market presence through organic growth and strategic acquisitions.
For more information about Woodstream Corp, please visit Woodstream.com
###