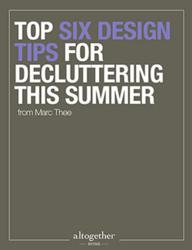 Readers will learn how to use what's already in their homes to clean up for the summer and discover beautiful home accents that will affordably 'dress the mess'
Orlando, FL (PRWEB) July 27, 2012
Homeowners are learning how to cut down on clutter in an inspiring new "how-to guide" from Altogether Home. Available for free download at altogetherhome.com, the new style guide delivers six creative solutions for sprucing up every room in the house by finding a place for those unsightly stacks of "stuff." The tips come from world-renowned interior designer Marc Thee, who is known for his clutter-busting creativity and real-world style. Readers will learn how to use what's already in their homes to clean up for the summer and discover beautiful home accents that will affordably "dress the mess."
Altogether Home is a unique furniture and accessories retailer that combines world-class product with interior design guidelines, inspiration and advice. Acclaimed trendsetter Marc Thee (founder of the #1-ranked residential design firm in the United States), collaborates with a team of expert interior designers to create high-quality furniture with real-world style.
'Top Six Design Tips for Decluttering This Summer - From Marc Thee' is the first in an on-going series of free, stylish and thorough interior design "how-to guides" from Altogether Home. The guide is available at the newly redesigned Altogether Home website, which now features enhanced product descriptions, picture-rich inspiration galleries, new "Shop by Room" and "Shop by Category" browsing formats and more.
All of the interior design pointers in Altogether Home's new guide come directly from the creative mind of celebrated designer Marc Thee. He is the founder of Marc-Michaels Interior Design and has more than 25 years of experience in high-end interior decoration. Interior Design magazine named Marc-Michaels the country's #1 residential design firm in 2012. Now, he is partnering with Altogether Home to produce the Marc Thee Home Collection, which will be available exclusively from Altogether Home beginning in Fall 2012.
The new guide presents readers with a wealth of brilliant ideas for redefining their summer home living. This thorough, 22-page, full-color document unveils a number of design inspirations, including:

Clutter-Busters as Accent Pieces - Marc Thee shows readers how simple accent pieces like trays, buckets and boxes can clear out clutter and add chic touches to your room design.
Summer Season Color Combos - Readers learn which color combinations work best inside a home during the summer season... from bed linens to throws, pillows and more! Step up your summer style in the bedroom, bathroom, living room, or dining room.
"Mail Jail" Freedom - Rid yourself of junk mail clutter once and for all with Marc Thee's strategic solutions for what Altogether Home calls the "Mail Jail."
Clear Counters for the Bathroom and Kitchen - Marc Thee gets to the bottom of bathroom clutter and shows readers how to make the most of the smallest space in the house. Then, see how some of the same ideas carry over to the kitchen and dining room.
The new style guide, 'Top Six Design Tips for Decluttering This Summer - From Marc Thee,' can be downloaded free of charge (PDF format).
The guide comes as part of 'Haven', an all-new blog and interior design portal maintained by experts in interior design such as Marc Thee and sensible style guru Andrea Hurt. An all-purpose "lifestyle" blog, 'Haven' goes far beyond home furnishings, incorporating fashion, food, travel, and all the things that make life "altogether lovely." Professional decorators share their perspective on how interior design can rejuvenate anyone's home. Unlike typical retail blogs, Altogether Home supplies fresh, new content all the time - the kind that readers will want to revisit daily for renewed inspiration. 'Haven' also allows any visitor to ask for free interior design advice about his or her own room designs.
Altogether Home is a stylish home furnishings and accessories retailer that specializes in interior design-quality products. Created and managed by professional interior designers, Altogether Home lends customers an expert perspective on style to take the mystery out of interior design.
For press inquiries, please contact: 5W Public Relations.
About Altogether Home
Launched in August 2011, Altogether Home is a home furnishings and accessories retailer with a difference: we are an interactive online destination that provides world-class interior design inspiration; approachable and individualized design advice; and beautiful, high-quality home furnishings at real-world prices.
With our merchandising team, and guest curator and product designer Marc Thee, Altogether Home is the destination for real-world advice on how to make the most out of your space. As founder of Marc-Michaels Interior Design, and with more than 25 years of experience in high-end interior design, Marc Thee saw his company grow to receive more than 400 national and regional design awards, including Interior Design magazine's 2011 ranking as the #1 residential design firm in the United States in 2011.
Throughout his career, Marc's work has emphasized his philosophy that a well-designed room must be elegant, stylish and comfortable, capturing a distinctive quality that he refers to as "barefoot elegance." Altogether Home is proud to be the exclusive retailer for the Marc Thee Home Collection, including beautiful, high-quality and organically-inspired furniture and bedlinens, which will be available in Autumn 2012. For more information, please visit: http://www.altogetherhome.com.