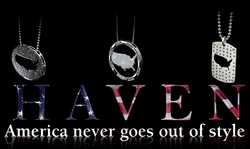 Wow, they're so cool, tweeted Kelly Killoren Bensimon on Twitter
Boston, MA (PRWEB) July 1, 2010
American patriots, celebrities and global citizens are catching a wave of American patriotism sparked by emerging designer Fatima Freitas and her newly launched jewelry collection of patriotically hip dog tags and circles. Freitas, a naturalized U.S. citizen who hails from the African nation of Angola, hopes to have a hand in changing the way others view and appreciate America.
"I do believe that America never goes out of style and created the Havenglam collection to embody this proud sentiment in a stylish and sexy way," says Freitas. A career jewelry executive and designer, Freitas experienced at a young age how conflict can inspire a need for safe havens when her family left Angola for Europe and ultimately, the United States. This new venture symbolizes the ideal of an inclusive America and the "safe haven" it represents to those around the world. "This is my way of giving back."
"Finally someone made patriotism sexy," says Brooke Burke, Co-host of Dancing With The Stars. "Fatima's story is truly an American dream."
Priced from $90 for a simple sterling silver circle (Patriette) to $2600 for the blinged-out 14 karat gold diamond-encrusted dog tag (Freedom Bling), the Havenglam collection is democratically priced and designed (dog tags are unisex). All pieces boast the map of America and can be paired with either cords or chains.
The new company hopes the initial positive reviews will give way to organic growth among both urban and rural customers alike. Market research even revealed interest from customers abroad. Currently the entire collection is available exclusively online at http://www.havenglam.com and will soon be featured at select boutiques around the county.
Attention media and fashion bloggers: Please contact Havenglam co-creator and media liaison Diane Mantouvalos for full details, high-resolution photography or interview requests.
###