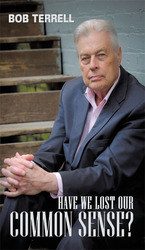 It challenges us to focus and act on those things that can make a difference in the quality of life of our people and not in judging and demonizing those with whom we have some differences in beliefs
Corbin, KY (Vocus) November 18, 2010
When it comes to the success of America's future, a retired Ford Motor Company executive believes teamwork and common sense leadership is the answer.
In his inaugural book Have We Lost Our Common Sense, author Bob Terrell takes a simple and direct approach to solving the nation's crises. Drawing from various personal experiences, Terrell dives into some of the most diverse and controversial issues of today, advocating a common sense approach for effective solutions.
"It challenges us to focus and act on those things that can make a difference in the quality of life of our people and not in judging and demonizing those with whom we have some differences in beliefs," says Terrell.
Addressing such issues as hatred, intolerance, racism, equal rights and abortion, Terrell delves into 20 chapters that recount his personal experiences and the lessons he has learned. He includes remembrances of the efforts of Martin Luther King, Jr., the death of President John F. Kennedy, the Oklahoma City bombing, his experiences in the Marine Corps and his friendship with Hall of Fame Baseball player Roberto Clemente.
Terrell also discusses the current economy and bailout programs, including his own experiences derived from 40 years in the auto industry.
"Most often, simple and direct 'common sense' ways of doing things are better than long, drawn out and complex methods that nobody understands," he says.
Educational and practical, Have We Lost Our Common Sense? approaches a variety of issues with a single goal in mind: To make the quality of life better for our people and future generations.
"I want us to focus on our most serious problems instead of getting tangled in personal disagreements that don't really make any difference in the quality of life in our nation," says Terrell.
About the author
Now retired, Bob Terrell began his career as a U.S. Marine Corps officer in 1956. He then embarked on a 30-year executive career with Ford Motor Company, and most recently, he served as president of Fred Jones Enterprises.
A Kentucky native, Terrell graduated from Georgetown College Kentucky in 1955 with a degree in economics. He was inducted in the Athletic Hall of Fame of Corbin High School and Georgetown College. He is a director and a founder of Hometown Bank. This is his first book.
# # #