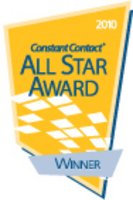 We plan to use Constant Contact with social media to make our client's email campaigns even more powerful.
Kamuela, HI (PRWEB) March 31, 2011
Kinoshita Communications, a Big Island marketing agency, has received the 2010 All Star Award from Constant Contact® Inc., the trusted marketing advisor to more than 400,000 small organizations worldwide.
Kinoshita Communications is one of Constant Contact's 2010 top performers and most prolific users of its tools, whether within Constant Contact's email marketing, event marketing, social media marketing, or survey products – or a combination of all four.
"We use Constant Contact to provide recession-proof solutions that drive a lot of value to our client's bottom line," said Laura Kinoshita, founder and president of Kinoshita Communications. "We plan to use Constant Contact with social media to make our email campaigns even more powerful."
Constant Contact looked at criteria including the following when selecting this year's All Stars:

Frequency of campaigns, events and surveys
Open, bounce and click through rates
Usage of social features
Mailing list sign up tools
Use of reporting tools
"We work hard to listen to our customers, and we use that feedback to create products and services designed to help them better engage with their customers and prospects," said Gail Goodman, chairman, president and CEO of Constant Contact. "The Constant Contact All Star Awards are our way of recognizing our customers that have successfully used Constant Contact to market their companies. We have some of the most committed, passionate customers out there and we're proud we can be a part of their continued success."
About Kinoshita Communications, LLC
Kinoshita Communications is a Big Island marketing agency that helps businesses build and manage brand relationships, increase visibility and word-of-mouth, grow and retain more customers, enhance relationships and generate more return-on-value for their marketing efforts. Laura Kinoshita is a senior marketing professional who has helped more than 35 CEOs and small business owners over the past 15-years. Her work has earned the Creativity in Public Relations award for Best Product Launch (1998), the Edward L. Bernay award for Best Initial Public Offering (2000) and the Silver Telly award for Best Educational Video for Academic Use (2006). For more information, visit http://www.laura-kinoshita.com.
About Constant Contact, Inc.
Constant Contact is revolutionizing the success formula for small organizations through affordable, easy-to-use Engagement Marketing™ tools that help create and grow customer relationships. More than 400,000 small businesses, nonprofit organizations, and member associations worldwide rely on Constant Contact as their engagement hub for starting and driving ongoing customer dialogs through email marketing, social media marketing, event marketing, and online surveys. All Constant Contact products come with unrivaled know how, education and free coaching with a personal touch, including award-winning customer support.
###