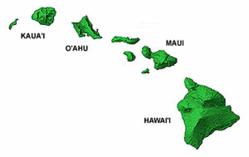 Honolulu, HI (PRWEB) May 22, 2013
The misspellings of the Hawaiian Island names seem to be prevalent. Maui'd Forever, a Hawaii wedding planner that gets dozens of inquiries every week has noticed that many people misspell the names of the Hawaiian Islands. The most common misspellings for Hawaii are: Hawii, Hawiia, Hawaai, Hawiie, Hawwaii, Hawaaii and Hawie. These of course refer to either the Big Island of Hawaii or to the whole Hawaiian Island chain. The major Islands are Kauai, Oahu, Maui and the Big Island of Hawaii and they all have common misspellings.
The Island of Kauai for example has people spelling it Kaui, Kaua'I and Kauia. Maui's most common misspelling is Mowie and Oahu often sees Ohua and Ohau. Because of this the wedding planner Maui'd Forever has decided to create a special web page just for these mistakes. They have titled their page "Weddings on Ohua, Kaui and Hawai" (all misspelled).
Maui'd Forever owner Mark Steffan tells us in a recent interview that "If you think people often misspell the names of the Hawaiian Islands you should hear them trying to pronounce them and the different town and city names within the Islands."
Maui'd Forever is one of Hawaii's few full service, all-Hawaiian Islands wedding planner and coordinator. Founded in 2003 by entrepreneur Mark Steffan, the company operates on the Hawaiian Islands of Oahu, Maui, Kauai and the Big Island of Hawaii. They offer wedding packages and plenty of beach locations on each Island.