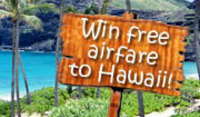 Oahu, HI (PRWEB) September 20, 2008
Hawaiian Beach Rentals, a premier Hawaii vacation rental listing firm, announces their "Win Free Airfare to Hawaii" Sweepstakes. The Grand Prize winner will receive complimentary, roundtrip, airfare to Honolulu, Hawaii for two (the winner plus a guest).
Once in Hawaii, the winner can plan their vacation however they choose. Stay in an Oahu vacation rental or travel to one of the outer islands.
DATES TO PARTICIPATE
The sweepstakes began on August 28, 2008 at 9am HST and will continue until November 26, 2008, ending at 11:59am HST. The Grand Prize Winner of the sweepstakes will be chosen on or about December 10, 2008. Hawaiian Beach Rentals will officially contact the Grand Prize Winner after they are chosen.
HOW TO ENTER
To enter the sweepstakes, complete the online entry form. Participants must be legal residents of one of the 50 US states and must be 21 years or older.
FURTHER DETAILS
The Grand Prize Winner of this sweepstakes must travel to Honolulu from a major US airport by December 1, 2009. The sweepstakes winner is required to arrange their travel plans with Hawaiian Beach Rentals at least 8 weeks prior to their date of departure.
For further details about this Free Airfare to Hawaii Sweepstakes, read the official rules. For more information about places to stay in Hawaii, see a complete list of Hawaii accommodations.
###