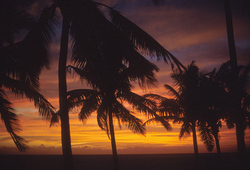 Brighten up to lighten up! Wearing Hawaiian clothing, which uses uplifting colors and is comfortably cut, can be a huge help.
Waxhaw, NC (PRWEB) February 19, 2010
10 Ways To Beat The Winter Blues
Hawaiian-shirt.net a leading online retailer of Hawaiian apparel, offers ten tips to beat the winter blues. Much of America is slowly emerging from beneath deep layers of snow burying everything recognizable. It is a cold, heavy weight that is going to be everywhere you see for many weeks to come.
The winter blahs are here.
Not counting those suffering from Seasonal Affective Disorder*, which should be treated professionally, there are a few simple thing that anyone can do that helps banish the blahs.
1 - Smile!
Smiling, even when it is not heartfelt, is an effective mood lifter. Smiling works especially well if when dealing with other people during their workday. Smiling at others makes them more positive in their interactions, and this creates an uplifting positive feedback loop.
2 - Feel the burn
Exercise is another proven mood enhancer. Physical exertion releases dopamine in the brain. The runner's high is not necessary to benefiting from exertion.
Try taking a walking lunch. Brown-bag food and eat it while walking during lunch break to burn calories and save money.
3 - Brighten up to lighten up
Wearing Hawaiian clothing, which uses uplifting colors and is comfortably cut, can be a huge help. It also has a similar positive feedback loop to smiling, where people are nicer to a person when they like that person's appearance.
More than shirts are available today, the horizons for Hawaiian clothing have vastly broadened with the advent of online stores. The dashiki has become more mainstream for men, as has the humble muu-muu for women.
4 - Lay off the sugar
A sweet in the middle of the afternoon provides a pick up... then a hard dump. For healthier alternative, eat a piece of fruit or even a light serving of a carbohydrate instead. It will also be seen along the waistline.
5 - Sex!
Consenting adults take heed, good sex is a positive mood enhancer and a well known sleep aid. Other benefits may include improved communications and a happier partner.
6 - Catch some sleep
Setting an exact time for your day to end with one hour to wind down will allow a restful sleep. Ending the day means computers off, kids in bed, and night time chores completed. The hour of down time allows the mind to go away from the stresses of the day. The last hour should be spent in bed winding down with a good book or a favorite TV show, and when the hour ends the lights go out.
7 - Kindness in kind
Doing an act of kindness will lift your mood and help others. The American Red Cross is taking $10 donations to help efforts in Haiti. (Even years after publication, they will always welcome your donation!)
8 - Play with a pet
A great excuse to simply play. Play is a mood lifting and mind-expanding activity that enhances self expression and enjoyment of life. Billions of children can't be wrong, and the pet will be appreciative.
9 - Sing-sing
An old song is like an old friend, and singing along on the drive to or from work will bring back happier days. Many professional singers warm up with the Star Spangled Banner.
10 - Cry if you have to
When a bad mood cannot be shaken off by other methods, have a good cry. Find an undisturbed setting, turn off the phones, and sit in the quiet. Concentrate on the emotions troubles cause rather than the troubles themselves. Sometimes a good cry is what is needed.
*Shortened to the aptly named "SAD", it effects between 1.5 to 1.9 percent of all Americans according to the CDC in Atlanta. If you are having thoughts of suicide or feel you may be depressed, seek immediate medical assistance.
###