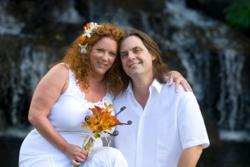 I recommend guided hikes for both the expert information and the safety that the guide provides.
Maui, Kauai, Oahu and Hawaii, Hawaii (PRWEB) July 03, 2012
Hawaiian Style Weddings, which offers full-service wedding planning, recently polled its destination wedding couples to learn what activities their wedding parties looked forward to. Hawaii's clean ocean waters and multi-colored beaches attract tourists from around the world so, it was no surprise to discover that "Sitting on the beach relaxing" was the number one pick. Water activities, dinner cruises, and fishing trips were listed next. Popular land-related activities included Hawaiian luaus and helicopter tours, but for the more adventurous, guided hiking tours and zip-lining were top picks. On the island of Kauai specifically, tourists prefer scenic hikes into Waimea Canyon on the west end of the island and on the Na Pali Coastal trail on the north shore.
Lori Jay, Tour and Activity Specialist at Tom Barefoot Tours, recommends Kauai Natural Tours. Lori noted that "Geologist/Naturalist Chuck Blay of Kauai Nature Tours has the most knowledgeable team of nature guides. Blay is a dynamic tour guide perfect for wedding groups."
Blay structures day hikes into the Canyon to fit visitors' interests, hiking skills, and physical abilities. "We've taken families and groups as large as 25 on the Canyon Trail in Waimea Canyon," Blay said when asked why this hike is preferred by groups. "The views are spectacular, and this hike offers the chance to see the greatest variety of terrain with plants and birds in their natural habitat. Guests leave the island with honeymoon memories and with a deeper appreciation of geologic history and Kauai's botanical and ecological diversity."
Wedding couples often return on their anniversaries to hike the trails. In 2010, newly-weds Leigh and John Novueaux from Santa Rosa, California, hiked the Canyon Trail with Blay to celebrate their anniversary.
"We're both nature lovers and visited Kauai to rekindle the memories of our Hawaiian wedding," Leigh wrote in the Hawaiian Style Wedding's activities poll. "That Waimea Canyon hike, with Chuck's expert geological narration and enthusiasm, was great. The highlight of our day was the yummy picnic at the top of Waipo'o waterfall." Leigh and John will be returning for another anniversary celebration. " For our five-year anniversary we will return to hike with Chuck along the Na Pali Coast!"
Maui'd Forever Wedding coordinator Mark Steffan also recommends tours and activities for his clients. Steffan depends on Tom Barefoot Tours to match his clients with the most appropriate outings with the best value. Steffan noted that "Visitors want to have their romantic beach weddings and also to experience the beauty of Hawaii. Destination weddings can be packed with a week or two of island experiences that will last a lifetime."
Consultant, Jana Rothenberg at Hawaiian Style Weddings provides full service wedding planning. "Full service means that we plan every detail of their wedding from reserving hotels, photographers and flowers to recommending where to find Aloha shirts and moisture-block hair spray. Working with some couples for 12 to 14 months allows me get to know their interests and to also get to know them as families and clients."
Full service does not stop at the wedding celebration but extends throughout the wedding week. Rothenberg continued, "I enjoy providing island cultural and ecological information on Maui, Kauai, Oahu, and, of course, on the Big Island of Hawaii. My favorite suggestions connect my couples and their families with the natural beauty found throughout Hawaii. Most couples live in cities and don't get much time in this kind of nature. I recommend guided hikes for both the expert information and the safety that the guide provides. Each island is unique, and I suggest that wedding parties explore, learn, and experience the islands fully to connect with that more-natural part of themselves, their new unions and, of course, with romance."