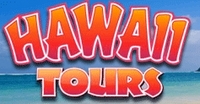 Honolulu, HI (Vocus) September 1, 2009
Hawaii Tours (https://hawaiitours.com/), an online booking agency for tours in Hawaii, announces the addition of new tours for the adventurous traveler.
While Hawaii remains one of the top destination in the world to go relax on the beach, over the last year Hawaii Tours' employees have seen an incline in the number of requests for adventurous activities in Hawaii. Some requested activities include hiking tours, zipline tours, and even shark tours. Hawaii Tours' employees say they aren't sure why the demand for these types of activities has increased, but they suspect it is a result of younger visitors wanting more excitement out of their vacation.
The Mona Waterfall Hiking Adventure is one of the hiking tours added. This four hour trip takes vacationers in the rainforest to see the one of the tallest waterfalls in Oahu. Giant ferns, beautiful water falls, and Hawaiian plant and animal life are the highlights of the hike. This tour is great for active people who want to get a little exercise on their vacation.
For those who don't want to stay on the ground, Hawaii Tours now has four different zipline tours to choose from. Guests soar above the tropical rainforest on a number of different ziplines on Kauai and the Big Island. These tours have become some of the most popular adventure tours in Hawaii.
For those who don't want to stay on or above ground, Hawaii Tours offers a tour that takes visitors to swim with sharks. This activity demands a little more courage than the previous two. Guests are lowered into the ocean water in a shark cage, where they snorkel with the ocean's most feared predators. Hawaii shark tours have to rank as the most adventurous tours in Oahu.
About Hawaii Tours
Hawaii Tours is an online booking agency for over 150 tours throughout the Hawaii Islands. Hawaii Tours provides detailed descriptions of each tour, secure online payment methods, and a call center with trained professional.
###