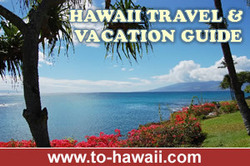 We receive many inquiries about Hawaii from people around the world on a daily basis. So we thought it was time to have our website translated into more languages
Honolulu, HI (PRWEB) April 6, 2009
Planning a trip to Hawaii? To-Hawaii.com, a popular and free online Hawaii travel and vacation guide is now available in English, Japanese, Mandarin, Spanish, German, French and Bulgarian.
"We receive many inquiries about Hawaii from people around the world on a daily basis. So we thought it was time to have our website translated into more languages," says Yunonna Richards, marketing manager of To-Hawaii.com.
The travel guide was written by two local residents who know the islands well and who have personally visited the places they wrote about. The guide features detailed and unbiased insider information about the eight main Hawaiian Islands of Oahu, Maui, Kauai, Lanai, Molokai, Niihau, Kahoolawe and the Big Island of Hawaii.
To-Hawaii.com has informative articles, pictures and videos of Hawaii's most popular attractions, island maps and interactive features, such as a chat and a discussion forum with several different categories. Everything one needs to know to plan a Hawaii vacation, business trip, or move to the islands - or to just learn more about Hawaii.
There is a general information section that includes articles about Hawaii hotels, attractions, things to do, the islands' culture, language, hula, ukulele playing, schools, universities, climate and real estate.
Then there are six island categories which feature island-specific information. In the Oahu section for example, one can read about world-famous Waikiki, the state capital of Honolulu, Oahu's landmark Diamond Head, the historically significant site of Pearl Harbor and other popular Oahu attractions, such as the Polynesian Cultural Center and the Dole Pineapple Plantation.
The Maui island section includes articles about famous Haleakala National Park, the Road to Hana, Iao Valley and Lahaina, an old whaling town. In the Kauai section one can read about Waimea Canyon, the Na Pali Coast State Park and the popular beach town Poipu. The Big Island of Hawaii section includes information about the Hawaii Volcanoes National Park, Kilauea, Mauna Loa and the picturesque town of Hilo.
The islands of Molokai and Lanai are not that known, but are still covered on To-Hawaii.com. Lanai boasts two spectacular luxury resorts of high caliber, the Four Seasons Lodge at Koele and the Four Seasons Lanai at Manele Bay. Most of the beaches on Lanai are remote and can only be accessed by a four-wheel drive. Molokai is most-known for its Kalaupapa Peninsula, the site of a former leprosy settlement. Both islands offer privacy and solitude and are the ultimate escape.
Website visitors will also find an extensive information section about Hawaii's beaches and ocean safety. From worldwide-known Waikiki Beach and Sunset Beach to lesser-known hidden jewels like Shipwreck Beach on the island of Lanai, there are detailed reviews, maps and driving directions how to get to these places.
For detailed information about the Hawaiian Islands, visit http://www.to-hawaii.com.
About To-Hawaii.com:
Launched in 2006, To-Hawaii.com was created by two local residents based in Honolulu, who have personally visited and researched the places they wrote about. The online guide serves as an information portal for visitors to the islands and all people who are interested in learning more about the Hawaiian Islands. To-Hawaii.com is now available in six new languages.
###