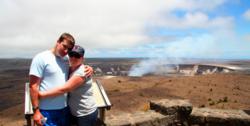 The highlight of my vacation!
Kailua Kona, Hawaii (PRWEB) August 13, 2012
The tour company Hawaii Outdoor Guides is unveiling a new tour that includes iPads. A guide will show videos and pictures to guest to enhance their experience in downtown Kailua Kona, a coffee farm, black sand beach with turtles and inside Volcanoes National Park. Guests are then able to use an iPad provided while on the tour to watch a movie, play a game, read or listen to music.
Hawaii is a beautiful destination and on the island of Hawaii there is so much to see and do. Hawaii Outdoor Guides takes out the guess work by showing guests the highlights with small groups of 10 or less. Volcanoes National Park is where glowing lava can be seen and Hawaii Outdoor Guides knows of the places to give guests the best views of the lava and to hike the best trails on the island. Driving from Kona, tour guests are able to see the desert of Kau to the rain forests inside Volcanoes National Park. Guests learn about the volcanoes that formed the big island of Hawaii and how all of the other islands could fit into the Big Island with room to spare. The tour is so informative but fun and active.. The day ends by watching the glow from the active volcano. Lead guide Katie says "When we walk to the overlook to see Halem'aum'au glowing red and spewing volcanic gas, guests have only one thing to say 'WOW!'." After that finale it is a nice drive back to Kona listening to music on personal iPads provided by the tour.
Tours depart from Kailua Kona at 9am with hotel pickup and Waikoloa hotel pickup at 8:30am (with extra fee).
Included: use of iPad, lunch, dinner, water, juice and snacks (menu options available for guests with allergies and food restrictions).
Sites visited: Coffee farm with coffee tour and samples, black sand beach to see turtles and hike to an ancient heiau (temple), hiking inside Volcanoes National Park.
Cost:
Adults: $169 plus tax
Children 6 – 17: $119 plus tax.
If you'd like more information about this topic please call Katie Molzer at 888-886-7060 or email: info(at)hawaiioutdoorguides(dot)com