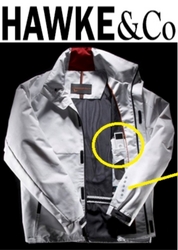 New York, NY (PRWEB) April 26, 2011
Hawke & Co is a premier lifestyle brand that integrates style, innovation, and quality products into everyday wear… and now they're integrating iPod/MP3 players into their everyday jackets! Hawke & Co is introducing its Lightweight, Pro-function, Active-wear Jacket that is a must have for men this season! (and seasons to come) As seen above, this NEW style connects an iPod/MP3 Player to the jacket. The Jacket is integrated with Connect Wear Technology and features all the qualities that people love about Hawke & Co. Not only is the jacket water resistant, designed with HK wind guard and built to last… it's stylish! This new style, a.k.a. the Cobre, is available in White (as pictured), Black and Carbon. The jacket also features a roll-up hood and sleeve tabs allowing styling options.
Hawke & Co has decided to celebrate the arrival of the Cobre style by giving them away! LIKE them on Facebook and tell Hawke & Co what's currently playing on an iPod/MP3 player and be one of the many lucky winners! Good luck and don't forget to share with friends about the contest!
###