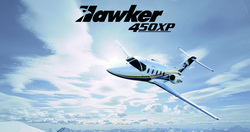 We have listened to our customers and are extremely proud to produce an aircraft that improves on what is already the world's best in fractional aircraft
Orlando, Fla. (Vocus) October 5, 2008
Hawker Beechcraft Corporation (HBC) today announced the launch of its newest light business jet -- the Hawker 450XP. Building from the world's most successful fractional aircraft, the Hawker 400XP, the new Hawker 450XP will receive the most comprehensive product upgrade in light jet history. The four key areas of upgrades include:
All new engines that deliver 10 percent better fuel economy -- the perfect antidote to today's rising fuel costs
The world's most advanced infotainment system via the new Rockwell Collins Venue™ integrated Cabin Management System
New more luxurious interior -- based on the interior of the 900XP, it's the most comfortable, most elegant and best equipped cabin ever offered in a light jet
All new avionics -- Rockwell Collins Pro Line 21™ integrated avionics elevates the pilots' awareness, knowledge and capabilities
"We have listened to our customers and are extremely proud to produce an aircraft that improves on what is already the world's best in fractional aircraft," said Jim Schuster, Hawker Beechcraft chairman and CEO. "We've taken what makes the Hawker 400XP a tremendous success and built upon it with more efficient engines, new interior and the most up-to-date avionics -- providing the best light jet value for our customers worldwide. The Hawker 450XP's improvements ensure that it will continue to lead this dynamic market segment in safety, performance and popularity."
Created in direct response to requests from HBC's loyal customers, the class-leading Hawker 450XP boasts longer range, faster climbs, lower operating costs, improved high and hot field performance and enhanced technology over its predecessor Hawker 400XP. Highlighting the largest cabin and largest cockpit when compared to its closest straight wing jet competitor, the Hawker 450XP will offer a standard eight-place, center-club seating arrangement with a private lavatory. The light jet provides an impressive combination of comfort, speed and technology, designed for the most productive business travel.
Superior Performance
Delivering unprecedented performance and efficiency, the Hawker 450XP will feature all-new Pratt & Whitney Canada PW535D turbofan engines, providing 10 percent better fuel efficiency. The PW535D engine is equipped with a full authority digital engine control (FADEC) and comes with a 5,000-hour Time Between Overhaul (TBO). Each engine provides 2,965 pounds of thrust, flat rated to ISA+20°C, which is eight degrees higher and 1,400 hours longer than the 400XP's JT15D-5R engines.
The Hawker 450XP also boasts a long range cruise speed improvement from the Hawker 400XP's 414 knots (476 mph) to 421 knots (486 mph). The maximum take-off weight (MTOW) will increase from the 16,300 pound limit found on the Hawker 400XP to 16,650 pounds, allowing operators to carry an additional 350 pounds of fuel at maximum payload.
The Hawker 450XP's increased efficiency translates into better range and payload performance under all aircraft loading and airfield combinations. For example, on a standard sea-level day the Hawker 450XP with four passengers provides a range of more than 1,600 nautical miles with NBAA IFR reserves (with a 100 nautical mile alternate) -- nearly a nine percent improvement over the 400XP. Under high and hot conditions, the range and payload improvement becomes even greater as the benefits of the higher flat rated engines are realized. Departing a 5,000 foot elevation airport at 25°C (77°F), the 450XP will yield a four passenger range of more than 1,600 nautical miles or a 24 percent improvement over the 400XP. Climb performance also improves, with the time needed to reach FL370 minimized from 18 to 14 minutes, ensuring more efficient Air Traffic Control (ATC) operations and direct routing, saving business travelers time and money.
Luxurious All-New Interior & Sophisticated Cabin Management System
Extending from the Hawker 400XP's reputation as the largest cabin of any comparable aircraft, the Hawker 450XP introduces a fresh, new Hawker interior, modeled after the Hawker 900XP's sophisticated quality and styling. Among the cabin's many upgrades are totally redesigned cabin seats with waterfall headrests, refinished cabin sidewalls and ceiling in softer and more luxurious leathers and fabrics, enhanced LED downwash lighting and optional seat warmers to provide the most-comfortable, most-elegant and best-equipped cabin ever offered in a light jet. The superior cabin offers a variety of features that are usually extra-cost options on competitive aircraft, like dual-zone climate control for optimum passenger comfort and a fully berthable center-club seating. A newly designed refreshment center maximizes space with hot/cold liquid and ice storage.
The new Rockwell Collins Venue™ high-definition cabin management and infotainment system will also be incorporated into the Hawker 450XP, allowing individual passengers to utilize their personal electronic device of choice to catch up on work or enjoy a customized in-flight entertainment system. The package has the capability to deliver a high-definition, home-theater audio and video experience from CDs, MP3s and XM Satellite Radio. The system also has individual power outlets and USB connectors that connect to a laptop, iPod®, iPhone® or nearly any piece of technology brought on board. A 10-inch, swing-out individual high-definition monitor in the club seating area and aft side of the forward cabinet are also available.
New Advanced Rockwell Collins Pro Line 21 Flight Deck
The Hawker 450's cabin won't be the only area to offer the latest in technology and functionality. The totally upgraded flight deck will also deliver an advanced level of enhanced safety and performance with the fully-integrated Rockwell Collins Pro Line 21™ avionics suite, the same system found in the larger Hawker business jets. The fully digital Pro Line 21 system elevates pilots' awareness, knowledge and capabilities to a higher level, featuring three 8-by-10 inch large-format active matrix liquid-crystal displays as well as digital radio and audio systems.
The Pro Line 21 standard avionics installation in the Hawker 450XP will also incorporate dual Flight Management Systems (FMS) and Wide-Area Augmentation System (WAAS)-enabled receiver that enable Localizer Performance with Vertical Guidance (LPV) approaches, solid state weather radar and Rockwell Collins patented Chart Link™ automated chart selection system to greatly reduce pilot workload. An Integrated Flight Information System (IFIS) will offer pilots a wide range of tools to enhance flight safety and pilot situational awareness, including map overlays (airways, airspace, geopolitical) and Electronic Jeppesen charts. In addition to these standard systems, IFIS options include U.S. or worldwide graphical weather.
First flight of the aircraft is scheduled for Q2 2009 with FAA Certification planned for Q2 2010. European Aviation Safety Authority (EASA) certification is expected in Q3 2010.
Hawker Beechcraft Corporation is a world-leading manufacturer of business, special-mission and trainer aircraft -- designing, marketing and supporting aviation products and services for businesses, governments and individuals worldwide. The company's headquarters and major facilities are located in Wichita, Kan., with operations in Salina, Kan.; Little Rock, Ark.; Chester, England, U.K.; and Chihuahua, Mexico. The company leads the industry with a global network of more than 100 factory-owned and authorized service centers. For more information, visit http://www.hawkerbeechcraft.com.
This release may contain "forward-looking statements" within the meaning of Section 27A of the Securities Act of 1933 and Section 21E of the Securities Exchange Act of 1934. All statements, other than statements of historical fact, including statements that address activities, events or developments that we or our management intend, expect, project, believe or anticipate will or may occur in the future are forward-looking statements. Forward-looking statements are based on management's assumptions and assessments in light of past experience and trends, current conditions, expected future developments and other relevant factors. They are not guarantees of future performance, and actual results may differ significantly from those envisaged by our forward-looking statements. Among the factors that could cause actual results to differ materially from those described or implied in the forward-looking statements are general business and economic conditions, production delays resulting from lack of regulatory certifications and other factors, competition in our existing and future markets, lack of market acceptance of our products and services, the substantial leverage and debt service resulting from our indebtedness, loss or retirement of key executives and other risks disclosed in our filings with the Securities and Exchange Commission.
Press contact:
Andrew Broom
+1.316.676.8674
+1.316.516.4158 Mobile
andrew_broom@hawkerbeechcraft.com
http://www.hawkerbeechcraft.com
# # #