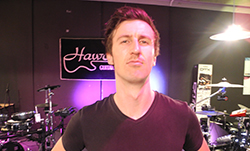 Since the performance I have heard only positive feedback from the students and teachers involved
(PRWEB) February 05, 2013
Through the medium of music, Australia's Haworth Music Centre, has for several years facilitated a School Tours Program, with the objective of fighting bullying and raising the awareness of adolescent mental health issues. The company has now announced that it will not only continue the program in 2013, but that it has plans for the school tour program to go nation-wide by 2015.
Director of Haworth Guitars Pty Ltd, Glenn Haworth, has made it his mission to reach as many high schools as possible with the Music School Tour Program. He aims to inspire students to learn to play a musical instrument, and encouraging them to make positive life choices.
"I am happy to share with students the fact that I was bullied, and had anxiety issues as a teenager" said Mr Haworth. "Music helped me through this period, and I think it really helps kids who suffer in this way to know that they are not alone, and there is a positive future ahead of them."
Mr Haworth, still in his twenties, is a business owner, entrepreneur and musician. He is also a Master Life Coach, and relates well to students. The Haworth team does not charge for its school visits, but does ask for a gold coin donation for the Make A Wish Foundation Australia.
Feedback From Schools
The Haworth Music School Tour is invited back to schools each year, and in the past has focused on high schools in regional New South Wales and Victoria. Feedback is always positive.
"With the positive reports I have received from the students following your free concert, we hope that you may return later in the year. Your team not only provided an entertaining lunch-time event for the students, but also inspired many of our keen musicians" said Hayley Dean, SRC Co-ordinator from Kiama High School.
And Hailey Barker, Vincentia High School Music Teacher said "Since the performance I have heard only positive feedback from the students and teachers involved and look forward to the possibility of the band returning in the near future. I have no hesitation in recommending The Haworth Music School Tour to other schools".
Details, and booking enquiries for the Haworth Music School Tour can be made at http://www.haworthguitars.com.au/music-school-tour/
About Haworth Music Centre
Luthier Phil Haworth established Haworth Guitars in 1999, with a focus on building and repairing stringed instruments. In 2000 the transition from workshop to retail space was made, and in 2008 the two-level Haworth's Music Centre, with adjacent Warehouse, was opened in Albion Park Rail, just south of Sydney, Australia.
Phil has returned to his love of guitar-building and the business is run by his son, Glenn, who in 2011 became General Manager. The Haworth team is comprised of young people who are passionate about music and musical instruments.Haworth's ability to remain very competitive in an online world rests with its warehousing capabilities and strong online presence.
Visit the Haworth website at HaworthGuitars.com.au (http://www.haworthguitars.com.au/)