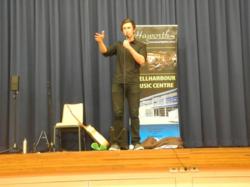 We make these events positive experiences by focusing on solutions rather than the problems
(PRWEB) June 04, 2013
For several years now, the Haworth Music Centre team has shared anti-bullying and positive self esteem messages with young people. The vehicle they choose to deliver those messages is music, which they take into schools via their school tours initiative. The most recent Haworth Music School Tour was to Nowra High School.
The events are a combination of live music performance, sharing of personal experiences, and the delivery of positive and helpful messages on anxiety and bullying.
"At Nowra High School we were able to engage several hundred Year 11 students for around an hour" said Glenn Haworth, Managing Director of Haworth Music Centre – Leading Online Music Store. "We kick things off with an acoustic guitar song, before I share some of my own experiences of bullying and anxiety."
"Because I've been there, I understand many of the issues that young people today face, and I am able to give them first-hand advice on how to cope, real positive steps to take, and some management strategies" continued Mr Haworth. "While music has been an integral part of my own journey, different ways of coping work for others."
Mr Haworth encourages students to have a vision, write down their goals and to work hard at achieving them. Importantly though he tells students not to be afraid to fail.
Respect of oneself and others is a key message that the Haworth school tours seeks to instill in students.
"We are each of us unique, so we should embrace our individuality. At the same time we should try to associate with the right type of people, those who make us feel good about ourselves" he said.
At the Nowra High School tour, Mr Haworth encouraged those who are being 'picked on' or bullied to talk to someone with the power to make it stop.
"We make these events positive experiences by focusing on solutions rather than the problems" said Mr Haworth. "And to add some levity and physical involvement, we include an air guitar competition - always a big hit."
Mr Haworth encourages other schools to contact him to be added to the Haworth Schools Tour program, with more details available at HaworthGuitars.com.au
About Haworth Music Centre
Luthier, Phil Haworth established Haworth Guitars in 1999, with a focus on building and repairing stringed instruments. In 2000 the transition from workshop to retail space was made, and in 2008 the two-level Haworth's Music Centre, with adjacent Warehouse, was opened in Albion Park Rail, just south of Sydney, Australia.
In 2013, Haworth opened its second retail outlet, this time in Wollongong, NSW.
Phil has returned to his love of guitar-building and the business is now run by his son, Glenn, who in 2011 became General Manager. The Haworth team is comprised of young people who live their passion for music and musical instruments.
Haworth's ability to remain very competitive in an online world rests with its warehousing capabilities and strong online presence.
Visit the Haworth website at HaworthGuitars.com.au (http://www.haworthguitars.com.au/)