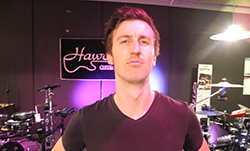 A quality travel guitar can sound as sweet as a full-sized guitar - electric or acoustic
(PRWEB) January 08, 2013
In an increasingly mobile world, its not surprising that scaled down travel guitars have grown in popularity - or so believes the Managing Director of Haworth Music Centre, Glenn Haworth. So much so that the business has just announced the expansion of its range of Traveler Guitars.
"Until an article was published in Drum Media in November, many people had not heard of Traveler Guitars" said Mr Haworth. "However, so good was the review, along with a recent blog post on our HaworthGuitars.com.au site that we have seen a marked interest in enquires and sales."
In most cases travel guitars have the same features of more traditional guitars, however the look a little different. Their body is smaller, and some can be taken apart or folded to fit in roughly the same space as a tennis racquet. They easily fit into the overhead locker of an aircraft cabin.
"A quality travel guitar can sound as sweet as a full-sized guitar - electric or acoustic," said Mr Haworth. "And some come equipped with on-board headphone amplifiers and mp3 player connectivity."
"We currently have on special an Ultralight Acoustic Traveler Guitar that is just 28 inches long, and it is an ideal solution for traveling players looking for the lightest traveler around" he continued.
By expanding its range of Traveler Guitars, Haworth Music Centre, aims to further establish itself as the go-to place (online or in person) for those wanting a great range of musical instruments, backed by professional advice from staff who are musicians.
"We are proud to be listed on the Traveler Guitars website as the Australian retailer for their products" said Mr Haworth.
Information about the Haworth Music Centre range of Traveler Guitars, including videos of each of them, visit HaworthGuitars.com.au.
About Haworth Music Centre
Luthier Phil Haworth established Haworth Guitars in 1999, with a focus on building and repairing stringed instruments. In 2000 the transition from workshop to retail space was made, and in 2008 the two-level Haworth's Music Centre, with adjacent Warehouse, was opened in Albion Park Rail, just south of Sydney, Australia.
Phil has returned to his love of guitar-building and the business is run by his son, Glenn, who in 2011 became General Manager. The Haworth team is comprised of young people who are passionate about music and musical instruments.
Haworth's ability to remain very competitive in an online world rests with its warehousing capabilities and strong online presence.
Visit the Haworth website at HaworthGuitars.com.au