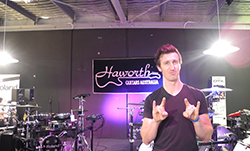 We aim to have just as many, if not more, guitars and amplifiers in stock in Wollongong as we do in our flagship Shellharbour store
Wollongong, NSW, Australia (PRWEB) May 02, 2013
Haworth Music Centre, based in Albion Park, NSW, has just opened the doors to it second retail outlet, at Fairy Meadow, Wollongong.
The new location, which had been kept under wraps for weeks, was the topic of much speculation both in-store and on Haworth's facebook page. The store's opening, together with Haworth's robust online shopping facility has, says General Manager, Glenn Haworth, taken the business to a new level.
"The new store is quite big with 260 square metres of open floor space and it is being filled with all the major brands and instruments that we stock," said Mr Haworth. "We aim to have just as many, if not more, guitars and amplifiers in stock in Wollongong as we do in our flagship Shellharbour store."
"We will also be stocking drums, keyboards, synths, digital pianos, small PA systems, home recording, live pro audio gear and orchestral instruments."
Since the retirement in 2012 of Haworth founder and Glenn's father, Phil Haworth, Glenn has been exploring growth opportunities for the iconic music outlet.
"Opening a second retail outlet is something I've been looking at for the past few years, and it is only now that we have the combination of elements that I was looking for: sensational dedicated staff, comprehensive product range, and, importantly, loyal customers who have become social media advocates," explained Mr Haworth.
The new Haworth Wollongong store, at 135-143 Princes Highway, Fairy Meadow, is managed by Kane Dennelly, who is a well-known and respected local musician, with a wealth of experience to share.
More Floor Space Helps Customer Engagement
The Haworth team has ensured that the new music store has plenty of room to help its staff engage even more effectively with its customers. Plans are in place to increase the number of the businesses very popular live product demonstration nights for the Wollongong music store.
Another special feature of the new store is the installation of a 'private room' which gives customers the opportunity to try out, in private, the instruments that they are considering purchasing.
"I really enjoy leading such a young team of passionate musicians, all of whom willingly share their knowledge with Haworth customers - both online and in both of our physical stores," said Mr Haworth.
"We are looking forward to continuing to provide rock-star experiences for our customers, just as Dad did in the early days of Haworths."
Details about the Haworth Music Centre stores, and online shopping information can be found on the HaworthGuitars.com.au website.
About Haworth Music Centre
Luthier, Phil Haworth established Haworth Guitars in 1999, with a focus on building and repairing stringed instruments. In 2000 the transition from workshop to retail space was made, and in 2008 the two-level Haworth's Music Centre, with adjacent Warehouse, was opened in Albion Park Rail, just south of Sydney, Australia.
Phil has returned to his love of guitar-building and the business is now run by his son, Glenn, who in 2011 became General Manager. The Haworth team is comprised of young people who live their passion for music and musical instruments.
Haworth's ability to remain very competitive in an online world rests with its warehousing capabilities and strong online presence.
Visit the Haworth website at HaworthGuitars.com.au (http://www.haworthguitars.com.au/)