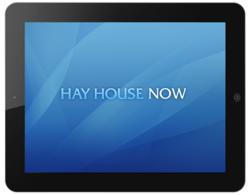 Hay House fans can now enjoy their favorite self-help authors everywhere they go.
Encinitas, CA (PRWEB) May 01, 2013
Oceanhouse Media, Inc. and Hay House Publishers announce the release of the official Hay House NOW app on the App Store℠. Hay House NOW provides instant access to motivational lectures, courses, video and audio from best-selling authors such as Louise L. Hay, Dr. Wayne W. Dyer, Doreen Virtue and Dr. Christiane Northrup. The app is available as a free download for the iPad®.
"Hay House fans can now enjoy their favorite self-help authors everywhere they go," said Michel Kripalani, president of Oceanhouse Media. "Our partnership with Hay House over the last four years has brought more than 125 self-improvement titles to the app market. The release of Hay House NOW offers a new way for fans to experience this life-changing content."
Hay House NOW includes hundreds of hours of free and paid personal development content, with new products added monthly. Topics include healing, meditation, affirmations, self-help and women's health. A user-friendly interface makes finding items quick and easy. Users can sort by their favorite author, browse by title, select a specific price range or search by a keyword or phrase.
"We're thrilled to introduce Hay House NOW to our loyal customers and anticipate that they'll thoroughly enjoy using this audio/visual streaming service to easily access tools to create a happier life," said Reid Tracy, CEO of Hay House, Inc.
Hay House NOW requires a minimum 3G cellular connection or WiFi to view or listen to the content. Products cannot be viewed offline. An iPhone version will be available in the coming months.
About Oceanhouse Media, Inc.
Creators of the award-winning Dr. Seuss digital book apps, Oceanhouse Media, Inc. is a leading publisher of more than 285 mobile and desktop apps for iOS (iPhone®, iPad®, iPod touch®), Android™, NOOK Tablets™, Kindle Fire™, HP TouchPad™ and Windows 8 devices. The company was founded in early 2009 by Michel Kripalani, a veteran of the video gaming industry. Seventeen of the company's apps have reached the number one spot within their categories on Apple's App Store℠. In addition, Google has selected the company as one of its Top Developers, a designation granted to only 150 groups worldwide.
Oceanhouse Media's corporate focus is to uplift, educate and inspire through technology. For more information, visit http://www.oceanhousemedia.com. Follow the company at http://www.facebook.com/OceanhouseMedia and http://twitter.com/OceanhouseMedia.
About Hay House Publishers
Hay House, Inc. is the international leader in self-help and motivational publishing, featuring books, audios, card decks, and sidelines by more than 250 authors. They are distributors for Hansen House and Amber Allens Books. SmileyBooks and New Beginnings Press are imprints of Hay House, Inc.