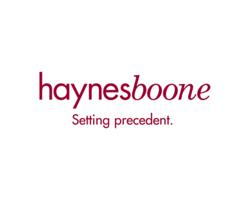 Penn Traffic sold substantially all of its assets to regional competitor TOPS Markets for a total purchase price of approximately $85 million, almost double the amount of the initial stalking horse bid.
New York, NY (Vocus/PRWEB) March 10, 2011
Haynes and Boone, LLP has been recognized by The M&A Advisor's 2011 Turnaround Awards for its role in the Chapter 11 bankruptcy sale of northeast supermarket chain Penn Traffic to TOPS Markets, LLC. The company's so-called "363 sale" was named Distressed M&A Deal of the Year ($100MM and under) and Distressed Deal of the Year in the retail manufacturing and distribution category.
New York bankruptcy attorneys Michael Foreman and Lenard Parkins led the Haynes and Boone team representing the supermarket operator and its related distribution companies and affiliates as debtors' counsel in the 363 sale and Chapter 11 cases. The Haynes and Boone bankruptcy team also included associates Abigail Ottmers, David Liebenstein, and Kendra Mayer.
Additional team members were Partner Arthur Carter and Associate Brett Glass from the labor and employment section, Partner Charles Plenge and Associate James Williamson from the employee benefits section, Partner James Wade and Of Counsel Jennifer Wisinski from the antitrust section, and Partner Rick Werner from the corporate section. New York Managing Partner Ken Bezozo handled tax matters.
Penn Traffic owned and operated 79 supermarkets in the northeastern United States and employed more than 4,000 people. At the time of its Chapter 11 filing, the company's total debt exceeded $250 million and annual revenues were approaching $900 million. Penn Traffic had been hurt by the impact of the nation's economic downturn on central New York and western Pennsylvania, which resulted in significantly less consumer spending and diminishing liquidity. Unable to re-finance or extend the maturity date of its secured debt, in November 2009 the company was forced to file its third Chapter 11 petition since 1999. At the time of the filing, the company's lenders were concerned for their ability to be fully repaid. Suppliers were unsure whether they would be repaid on deliveries made immediately before and after the Chapter 11 filing. Legacy claims asserted by the company's unions, pension and employee benefit plans threatened to chill bidding on the company, and landlords faced potentially large damage claims which would arise if the company were required to close its stores. Ultimately, Penn Traffic was able to negotiate terms with its lenders for use of cash generated from daily sales to fund operations pending an expedited sales process under Section 363(b) of the federal bankruptcy code.
Soon after the Chapter 11 filing, the company filed its motion seeking authority to conduct an auction for its assets and to liquidate its stores if they could not be sold as going concerns. A spirited marketing and sale process ensued before the bankruptcy court could even consider the proposed sale procedures. Penn Traffic then filed successive motions for approval of alternative sale transactions as potential bidders vied for the stalking horse role. Negotiations were conducted on parallel tracks against the backdrop of time pressures facing the company due to increasingly critical liquidity levels.
Ultimately on January 29, 2010, Penn Traffic sold substantially all of its assets to regional competitor TOPS Markets for a total purchase price of approximately $85 million, almost double the amount of the initial stalking horse bid. The TOPS agreement salvaged Penn Traffic from potential liquidation of the entire chain, preserving most of the company's supermarkets and thousands of jobs. The TOPS transaction also resolved substantial claims and issues with significant creditors, including the company's primary supplier, unions and one of the union pension plans. The secured lenders and key suppliers were fully repaid and unsecured creditors are projected to realize a meaningful recovery.
Haynes and Boone's bankruptcy attorneys and their colleagues in the labor and employment law, employee benefits, antitrust and corporate sections worked as a team with the company's senior management and other advisors to resolve numerous complex claims and transaction issues that permitted a smooth transition of the stores operations to TOPS.
Haynes and Boone shares its recognition with award nominator and Penn Traffic financial chief restructuring officer advisors Conway Del Genio Gries & Co. LLC. The M&A Advisor Turnaround Awards honor the accomplishments of leading distressed investing, restructuring and turnaround M&A professionals and firms in significant transactions nationally and by business sector. Winners were announced at the March 6 and 7 Turnaround Awards and Distressed Investing Summit in Palm Beach.
Haynes and Boone, LLP is an international corporate law firm with offices in Texas, New York, California, Washington, D.C., Mexico City and Moscow, providing a full spectrum of legal services. With about 550 attorneys, Haynes and Boone is ranked among the largest law firms in the nation by The National Law Journal. The firm has been named one of the "Best Corporate Law Firms in America" (Corporate Board Member Magazine, 2001-2009) and recognized as a "Top 20 Law Firm" for culture and for diversity with respect to both women and minorities (Vault, 2011).
CONTACT:
Mary Cheatham
Haynes and Boone, LLP
214.651.5467 (office)
214.929.8837 (cell)
mary(dot)cheatham(at)haynesboone(dot)com
###