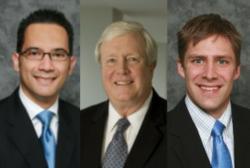 Houston, TX (PRWEB) December 30, 2011
A team of Haynes and Boone, LLP attorneys has successfully defended client Curves International, Inc. against trademark and antitrust claims asserted in federal court by Go Figure, Inc. (Civil Action No. 4:09-CV-2930)
After more than two years of litigation, Houston Partners Yasser Madriz and Mike Powell joined Houston Associate Mike Raab and Washington, D.C. antitrust Partner Richard Ripley in the Dec. 12 trial before Judge Hoyt in the Southern District of Texas, Houston Division.
After two days of witness examinations during Go Figure's case-in-chief, Go Figure sought to settle the case with Curves. Go Figure ultimately agreed, in pertinent part, to provide Curves with a judgment specifying that Go Figure would take nothing from Curves by way of its lawsuit. In addition, Go Figure agreed to tender to Curves an undisclosed settlement.
According to court documents, the dispute arose from Go Figure's development of a club management software, which it marketed to Curves' worldwide system of health club franchises over the last decade. Curves argued that Go Figure's success in marketing its software to Curves' franchisees was due in large part to a 2001 agreement between Curves and Go Figure that granted Go Figure the right to market and sell its software to Curves' franchisees as an approved vendor.
Go Figure also acquired a limited right to use Curves' trademark in conjunction with the parties' 2001 agreement, court documents showed. The agreement proved to be highly lucrative for Go Figure, which as argued by the Curves legal team, is why Go Figure wanted to maintain the status quo after termination of the agreement on May 1, 2009
Despite the termination of the agreement, court filings said, Go Figure continued to use Curves' trademark. Curves demanded that Go Figure cease and desist its unauthorized use of the Curves' trademark, and in September 2009, Go Figure preemptively sued Curves in federal district court, seeking a declaration that Go Figure had the continued right to use Curves' trademark in connection with its sale of club management software to Curves' franchisees. Soon thereafter, Curves counterclaimed against Go Figure for trademark infringement and other related claims, according to court documents.
In 2011, in response to the roll-out of a competing club management software developed by Curves, Go Figure dramatically altered the legal landscape of the lawsuit by amending its complaint to assert various monopolization and antitrust claims under the Sherman Act, according to the Curves legal team. In the amended lawsuit, Go Figure sought more than $ 3.5 million dollars in damages against Curves. The Curves legal team consistently maintained that these claims were wholly without merit and, ironically, nothing more than an attempt to use antitrust claims to stifle competition from Curves.
A Curves representative said the company sees this as an incredible victory that will enable it to continue with its future plans and worldwide growth.
About Haynes and Boone
Haynes and Boone, LLP is an international corporate law firm with offices in Texas, New York, California, Washington, D.C., Mexico City and Moscow, providing a full spectrum of legal services. With more than 525 attorneys, Haynes and Boone is ranked among the largest law firms in the nation by The National Law Journal. The firm has been named one of the "Best Corporate Law Firms in America" (Corporate Board Member Magazine, 2001-2011) and recognized as a "Top 20 Law Firm" for culture and for diversity with respect to both women and minorities (Vault, 2012). For more information, visit http://www.haynesboone.com.
Contact:
Haynes and Boone
(office) 214.651.5815
(cell) 214.704.3058
doug(dot)bedell(at)haynesboone(dot)com
# # #