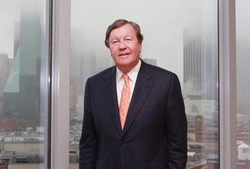 George is an excellent lawyer and leader because he has good judgment on the most complex issues
Dallas, TX (Vocus) March 31, 2009
George Bramblett , a partner in Haynes and Boone 's Business Litigation Practice Group, has been selected to receive the Dallas Lawyers Auxiliary's 27th annual Justinian Award honoring dedication to community service.
Mr. Bramblett is the third Haynes and Boone partner to receive the Justinian Award, following in the footsteps of founding partners Richard Haynes, honored in 1989, and Mike Boone, selected in 2004. Haynes and Boone is believed to be the only firm to see three of its partners bestowed with this prestigious honor.
"George is an excellent lawyer and leader because he has good judgment on the most complex issues," said Mr. Boone. "I can say without qualification that he is a lawyer's lawyer. These are some of the reasons why he is so deserving of the Justinian Award."
The Justinian Award, established in 1982 by the Dallas Lawyers Auxiliary as a first award of its kind in the United States, recognizes an outstanding attorney each year who has shown dedication to volunteer service. Mr. Bramblett was selected for his unwavering support of various agencies and causes throughout his 35-year tenure as a Dallas-area lawyer.
"Haynes and Boone was built on a culture of service and George sets the bar for the rest of us," said Haynes and Boone Managing Partner Terry Conner. "It is no surprise he follows Richard Haynes and Mike Boone as a recipient of this award. He has been a cornerstone of this firm and in his community throughout his career."
Longtime friend, colleague and 2006 Justinian Award winner, Thompson & Knight partner Sam Burford said, "I cannot think of any attorney more worthy of the Justinian Award than George. Since our law school days at SMU, George has been an example of what trial lawyers, and for that matter, all lawyers, strive to become: smart and resourceful, tenacious in representing clients and successful by any measure, not only in bar activities, but also in community leadership roles. George simply represents the best in all aspects of the legal profession."
A partner in Haynes and Boone for more than 30 years, Mr. Bramblett has maintained a diverse litigation practice and earned professional accolades along the way. He was named Trial Lawyer of the Year by the Dallas Bar Association in 2001, serves as a fellow in the American College of Trial Lawyers and is a fellow in the American Board of Trial Advocates, where he served as President of the Dallas Chapter. He is a frequent CLE speaker and has written widely on courtroom procedures, including "The Court's Charge" and "The Ultimate Trial Notebook," both penned for the State Bar of Texas.
Mr. Bramblett's many honors include the SMU Law School Distinguished Alumni Award for Private Practice, Hall of Fame in the Baylor College of Dentistry, the Anti-Defamation League Jurisprudence Award, and the Alliance for Higher Education Award. In 2008, Mr. Bramblett received the Dallas Bar Foundation Fellows Award, the foundation's highest honor.
Mr. Bramblett has been included in Texas Super Lawyers, published by Texas Monthly Magazine, every year since its inception. Texas Super Lawyers also has designated him a Top 10 Lawyer in Texas.
Mr. Bramblett is a member of the Haynes and Boone Board of Directors. In his practice, he represents clients in the full range of business, commercial and tort litigation in state and federal courts throughout the nation and before administrative agencies and arbitration tribunals.
Haynes and Boone, LLP (http://haynesboone.com) is an international corporate law firm with offices in Texas, New York, California, Washington, D.C., Mexico City and Moscow, providing a full spectrum of legal services. With almost 550 attorneys, Haynes and Boone is ranked among the largest law firms in the nation by The National Law Journal. The firm has been recognized as one of the "Best Corporate Law Firms in America" (Corporate Board Member Magazine, 2001-2008), as one of "The Best 20 Law Firms to Work For" (Vault.com, 2008), and as a Top 100 law firm for both diversity (MultiCultural Law Magazine, 2009) and women (Women 3.0, 2008).
CONTACT:
Mary Cheatham
Haynes and Boone, LLP
214.651.5467 (office)
214.929.8837 (cell)
# # #