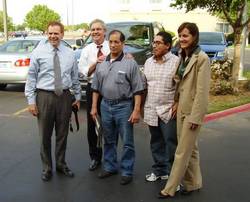 This is a great day for these two unfortunate men
Dallas (Vocus) May 13, 2008 –-
A pair of Mexican nationals imprisoned for life in a 1996 Texas Panhandle murder have been freed after a six-year Haynes and Boone, LLP pro bono effort won an appeals court mandate for new trials.
Lamb County grand jurors refused to reindict Alberto Sifuentes and Jesus Ramirez in the killing of a Littlefield, TX convenience store clerk in light of a Texas Court of Criminal Appeals ruling earlier this year reversing and vacating their convictions.
After five hours of hearing evidence, the grand jury took only ten minutes to no-bill Mr. Sifuentes and Mr. Ramirez.
Armed with certified copies of a judge's dismissal of all charges against the defendants, the Haynes and Boone pro bono defense team – Barry McNeil, Ron Breaux and Sarah Teachout – secured their release from the Lamb County jail. The two men were met by joyous family members who had gathered from across the country in anticipation.
"This is a great day for these two unfortunate men," said Mr. McNeil, who led the Haynes and Boone fight for Mr. Sifuentes, 35, and Mr. Ramirez, 59. "It's sad they were prosecuted in the first place.
"There was no physical evidence whatsoever linking Alberto and Jesus to the crime, and the prosecutor's case hinged on false testimony by a so-called eye witness who was not at the crime scene when she supposedly saw the killers," Mr. McNeil said. "How tragic it is that Alberto and Jesus have been deprived of their freedom for more than a decade. Our state and our country cannot afford mistakes like this. Each one is a horrible tragedy for both the victim's family and the wrongly accused."
Haynes and Boone's pro bono team spent 7,493 hours working on the men's cases. Firm time devoted to the case equates to about $2.35 million. The firm also spent more than $400,000 on private investigative services, exhibit preparation and other expenses for the cases.
Mr. Sifuentes and Mr. Ramirez were convicted in the Aug. 6, 1996 murder of Evangelina "Angie" Cruz, night attendant at the Jolly Roger convenience store just off Texas Highway 84 in Littlefield, northwest of Lubbock. The Haynes and Boone team argued during a 2005 habeas corpus hearing that Mr. Sifuentes and Mr. Ramirez were convicted based on false testimony by a questionable eyewitness.
The night Ms. Cruz was shot nine times and killed, Mr. Sifuentes and Mr. Ramirez were stopped by authorities while returning home to Muleshoe from a Lubbock bar. No evidence was discovered linking them to the crime, nor did they match the description Ms. Cruz gave of her assailants. They were allowed to leave.
Sifuentes and Ramirez only became the prime suspects the following day when an acquaintance inquired about a Crime Stoppers reward. After that, a bungled photo lineup and testimony from a mistaken eyewitness resulted in the convictions, the Haynes and Boone trial lawyers contended.
After the habeas hearing, the Texas Court of Criminal Appeals, Texas Attorney General's Office attorneys and the original trial judge all concurred that Mr. Sifuentes and Mr. Ramirez were both unconstitutionally convicted.
In August 2007, trial Judge Felix Klein of the 154th District Court in Lamb County concluded in his "findings of fact" that the defendants were denied their constitutional rights when the trial juries were never informed:

about the existence of a known alibi witness, Pauline Robles, who would have testified the defendants were at a Lubbock nightclub at the time of the murder;
that evidence implicated two brothers who matched the victim's description of her attackers;
and that critical evidence that could have led the jury to doubt the defendants' guilt was never investigated.
Haynes and Boone is primarily a corporate law firm, but has a long history of providing legal services to Mexican individuals and companies seeking opportunities in the United States. In Mexico City, where the firm operates one of the largest offices of any U.S.-based law firm, partners donated a total of 994 pro bono hours last year to causes including a foundation that supports Archdioceses of the City of Mexico, and recovery of a baby in a cross-border kidnapping.
The firm took on the Texas murder case at the behest of the Mexican government, which had flagged the Sifuentes and Ramirez convictions as part of its capital murder legal defense initiative on behalf of Mexican citizens wrongly convicted by U.S. courts.
Haynes and Boone (http://www.haynesboone.com) is an international corporate law firm with offices in Texas, New York, Washington, D.C., Mexico City and Moscow, providing a full spectrum of legal services. With almost 500 attorneys, Haynes and Boone is ranked among the largest law firms in the nation by The National Law Journal. The firm has been recognized as one of the "Best Corporate Law Firms in America" (Corporate Board Member Magazine, 2001-2007), and as a Top 100 law firm for both diversity (MultiCultural Law Magazine, 2008) and women (Women 3.0, 2008).
CONTACT:
Douglas Bedell
Haynes and Boone, LLP
214.651.5815 (office)
214.651.3058 (cell)
doug.bedell @ haynesboone.com
###