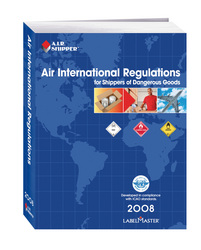 Chicago, Illinois (Vocus) September 28, 2007
Labelmaster, a U.S.-based manufacturer of regulatory compliance products, is releasing the 2008 A.I.R. Shipper™ Air International Regulations for Shippers of Dangerous Goods manual, which will be available October 2007. It is the first shipper-friendly regulations publication to be recognized by the International Civil Aviation Organization (ICAO).
A.I.R. Shipper™ will help your company stay in compliance with dangerous goods regulations and increase shipping safety, accuracy and efficiency. This publication combines international dangerous goods air regulations with related national requirements, so you have all the information you need to ship safely and in compliance with regulations in one resource.
Following are features that make A.I.R. Shipper™ an outstanding reference for shippers:

Developed in compliance with ICAO standards
Chapter order is logical and follows UN Model Regulations, ICAO and IMO formats
Innovative pricing allows maximum distribution of A.I.R. Shipper™ within your shipping operations
Cost-effective, quality product that promotes safety in dangerous goods shipping
Dangerous Goods List (DGL) is quick and easy to use
"How to Use" appendix helps you get the most out of the unique layout and features
Hazard and handling labels and markings shown in color
Colored borders make finding important sections quick and make text easier to read
Easy-to-use packing instructions include descriptive titles, maximum quantity tables and specific applicable variations
High-quality paper allows highlighting without "show-through"
The 2008 edition contains the following new features:

Preview of the 2009 ICAO changes
Adding 49 CFR Special Provisions to DGL
Easy-to-use reference guides to get all your information in one spot
New format is easier to read
Learn more about A.I.R. Shipper™ by visiting airregs.com
or call 1-800-621-5808.
For more information about other Labelmaster regulatory publications:
Regulatory Combos: http://www.labelmaster.com/index.cfm?section=store&cataloglevel=18720
Early 49 CFR: http://www.labelmaster.com/index.cfm?section=store&cataloglevel=17299
MasterRegs™ 49 CFR: http://www.labelmaster.com/index.cfm?section=store&cataloglevel=17300
ERG: http://www.labelmaster.com/index.cfm?section=store&cataloglevel=18212
Labelmaster, established in 1967, is a developer, manufacturer, distributor, and marketer of hazardous materials compliance products, including labels, forms, packaging, software, and publications. The company's 40 years of experience in providing regulatory information and products for all transportation modes make it especially qualified as a total compliance resource. Labelmaster's compliance division is located at 5724 N. Pulaski Road in Chicago. Learn more about Labelmaster: http://www.labelmaster.com.
The International Civil Aviation Organization (ICAO) is a specialized agency of the United Nations created in 1944 to promote safety in international civil aviation. ICAO sets standards and regulations necessary for aviation safety, security, efficiency, regularity, and aviation environmental protection. The Organization serves as a forum for cooperation in all fields of civil aviation among its 189 Contracting States. For additional information, visit http://www.icao.int.
For a complete version of this release with an image for download, please visit http://news.marketingimages.com/default.asp?nid=302
###