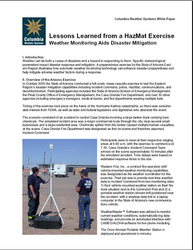 Lessons Learned from a HazMat Exercise
Hillsboro, OR (PRWEB) February 20, 2009
Weather can be both a cause of natural disasters and a hazard in responding to them. A State of Arizona HazMat training exercise illustrates how weather monitoring is pertinent to optimizing disaster preparedness. Consider how your agency measures up in this department by reading "Lessons Learned from a HazMat Exercise," the white paper just released from Columbia Weather Systems, Inc.
This case study details how specific weather parameters effect disaster response and recovery and how emergency managers can optimize their investment in weather monitoring technology. It provides tips for incorporating weather factors into disaster plans and decision aids to improve responder safety.
CWS manufactures the Orion and Capricorn weather stations which are used by hundreds of public safety agencies to monitor weather and disseminate information for disaster preparedness and emergency management. CWS weather stations include fixed-mount, vehicle-mount, and portable configurations with powerful display and software options for simultaneous weather data display at all echelons of command.
The white paper can be viewed and downloaded at
http://www.columbiaweather.com/ArizonaExercise.html.
###