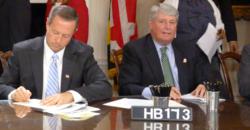 This is an historic day for innovation and entrepreneurship in Maryland. This program will bring the maximum benefit for taxpayers, while investing in our Innovation Economy, fueling the jobs and companies of tomorrow.
Annapolis, MD (PRWEB) May 19, 2011
Joined by Maryland business leaders and elected officials, Governor Martin O'Malley today signed into law InvestMaryland – HB173 – an historic initiative which will infuse a minimum of $70 million into promising start-up and early stage companies in Maryland, creating the largest venture capital investment in the State's history. The program, which will be rolled out over the next year and administered by the Maryland Department of Business and Economic Development (DBED), was proposed by Governor O'Malley nearly a year ago and received widespread support from the business community, academicians and industry experts during the legislative session. Among its benefits, the program has the potential to create thousands of jobs in Innovation Economy sectors – life sciences and biotechnology, cyber security/IT and clean/green tech and attract billions of follow on capital, all with no immediate cost to taxpayers. A video wrap up of the 2011 General Assembly session featuring interviews of Maryland's business leaders is available here.
"This is an historic day for innovation and entrepreneurship in Maryland. This program will bring the maximum benefit for taxpayers, while investing in our Innovation Economy, fueling the jobs and companies of tomorrow and creating an economic climate where the most promising ideas and innovations have a chance to mature," said Maryland Department of Business and Economic Development Secretary Christian S. Johansson.
"Maryland values the contributions of small businesses to our economy. InvestMaryland will inject much needed funding into small technology and biotechnology startup companies," said Kathy Snyder, President and CEO of the Maryland Chamber of Commerce and a member of the Maryland Economic Development Commission. "This will help spark Maryland's Innovation Economy and create jobs."
"InvestMaryland sends a powerful message of support to entrepreneurs in Maryland," said Steve Dubin, CEO, Martek Biosciences Corporation, Inc., who founded his company in Maryland more than two decades ago and recently sold it for more than $1 billion to a Dutch life sciences conglomerate. "The bill's signing today also sends a broader message to venture funds and entrepreneurs around the country that Maryland will be a key player in the growth of our innovation driven economy and a welcoming place for those seeking to start and grow businesses. "
Over the next year, key tenets of the program will be implemented, including the creation of the Maryland Venture Fund Authority, a nine-member panel that will select third party consultants to manage the tax credit auction, as well as select three to four private venture capital firms that will invest 67 percent of the funds raised. Of the funds invested through private VC firms, 100 percent of the principle and 80 percent of the profits will be returned to the State's general fund.
The remaining funds – 33 percent - will be deposited into the State's 15-year-old Maryland Venture Fund (MVF). Over its life, the MVF has invested $25 million into hundreds of start up and early stage technology and life sciences companies, generating a $61 million return. The Maryland Small Business Development Financing Authority (MSBDFA) will also receive a portion of funds for investment. Returns on the funds invested through the MVF will be reinvested in the program.
In early 2012, the tax credit auction for insurance companies will take place, with a floor of $.70 on the dollar and a maximum of $100 million in tax credits as authorized by HB 173. Insurance companies will be able to claim tax credits beginning in 2015. Once the funds are raised, the private venture capital firms will be able to begin making investments by June 2012.
In addition to the passage of InvestMaryland, the 2011 General Assembly session included a number of important wins for Maryland's business community. DBED's key incentive program – the Maryland Economic Development Authority and Fund – received an appropriation of $15 million for FY2012, an increase of $3 million from the previous fiscal year. For a complete review of 2011 legislative business accomplishments, please click here.
In an effort to stimulate and create jobs in the State's film industry, the Maryland Film Production Employment Act of 2011 was passed, helping to enhance the State's reputation as the go-to state for film production. The program replaces the existing Film Rebate Fund with a refundable film production tax credit and allows up to $7.5 million in tax credits to be issued annually for qualified productions. Last month, HBO announced that it will be filming the movie, Game Change, in Maryland.
The Department's Biotechnology Investor Tax Credit was held steady at $8 million in funding for the second consecutive year, and was also expanded to include biotechnology companies that have been in active business for 15 years. This provision will sunset in 2013.
In addition to these bills, the General Assembly passed a bill that will create the Commission on Maryland Cybersecurity Innovation and Excellence, which will help the State further its efforts to establish Maryland as the nation's epicenter of cybersecurity.
About DBED:
The Maryland Department of Business and Economic Development's mission is to attract new businesses, stimulate private investment and create jobs, encourage the expansion and retention of existing companies and provide businesses in Maryland with workforce training and financial assistance. The department promotes the State's many economic advantages and markets local products and services at home and abroad to spur economic development, international trade and tourism. As a major economic generator, the department also supports the arts, film production, sports and other special events. For more information, visit http://www.choosemaryland.org.
###