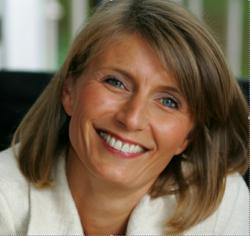 Huntington Beach, CA (PRWEB) December 13, 2011
The Healthcare Businesswomen's Association Southern California Chapter (HBA SoCal) presented the 2011 LEAD (Leadership Excellence and Dedication) Award to Ank Stuyfzand, co-director of Programs on the HBA SoCal Board. Stuyfzand was recognized at the HBA SoCal year-end celebration in Irvine, which also supported Working Wardrobes.
The LEAD Award honors one member from each of the HBA chapters nationwide who has demonstrated excellence in their sustained contributions at a regional level, positively impacted their chapter and its ongoing success, exemplified leadership excellence overall, and demonstrated dedication to the HBA mission of furthering the advancement of women in healthcare worldwide.
Stuyfzand has been instrumental in expanding the number and breadth of program offerings designed to empower members to achieve their professional and personal leadership goals. In 2011, the chapter offered a record 20 events on a wide variety of topics—from panel discussions on accountable care organizations (ACOs) to workshops on personal branding for women executives. She also served the HBA by participating on a committee that developed program guidelines for the entire HBA organization. Stuyfzand is a successful executive coach and the founder of InsideOut enterprise, an Orange County-based leadership coaching and management consulting firm. She is also an adjunct professor at Brandman University, teaching graduate classes on leadership.
"This is an honor too big to be awarded to just one person," Stuyfzand said. "It belongs to all of those who dedicate their time and energy to the HBA SoCal Chapter. Over the last three years, I have established great friendships with many HBA members and have learned a lot from their stories, talents, and the wisdom they have shared with me. I feel blessed to have the opportunity to work and laugh with such exceptional women."
According to Sue Steven, PhD, MBA,HBA SoCal board president and head of Mergellina Designs, Stuyfzand is a tireless leader whose energy and strategic guidance have been invaluable to the chapter and its members. "We all appreciate Ank's dedication," Steven said. "She exemplifies what the HBA stands for—a woman who is not only a recognized leader in her field, but also someone who will mentor, guide, and help others as they strive to achieve their goals."
About the HBA
The HBA is in its fourth decade as a global not-for-profit organization dedicated to furthering the advancement of women in healthcare worldwide. With 15 chapters and affiliates throughout the U.S. and in Europe, the HBA provides educational opportunities for women to develop cutting-edge healthcare industry knowledge and leadership skills; recognizes outstanding women and men in the industry; provides opportunities for networking; creates greater visibility for women in the industry; fosters mentoring relationships and serves as a conduit and sponsor for research on career advancement issues. The HBA has more than 6,000 individual members and nearly 130 Corporate Partners. For more information, visit http://www.hbanet.org.
###