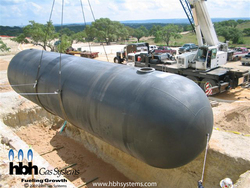 Austin, Texas (PRWEB) December 1, 2008
HBH Gas Systems and the developers of The Villas at Lakecliff have partnered to bring eco-friendly, affordable gas fuel to the homebuyers in this new upscale community just west of Austin, Texas. Because the community is located in an area that lacks access to natural gas, the developers turned to HBH Gas Systems to provide turn-key gas utilities with a Central Community Gas System.
This Central Community Gas System will provide individually metered gas utilities to the 71 single-family detached residential units in The Villas at Lakecliff. The system will be serviced, metered, and billed just like natural gas; the gas is piped underground from a centralized facility.
The developer of The Villas at Lakecliff, Horizontal Strategies, realized the benefits of offering dual fuels to homeowners but knew their development's location did not have feasible access to the natural gas grid. The developer did not want to build all-electric, because they know that homeowners prefer gas fuel - especially in a luxury lakeside community.
Faced with the prospect of installing unsightly and inefficient individual propane tanks at each home, Horizontal Strategies engaged HBH Gas Systems to implement a Community Propane System - the most effective solution to the challenge of delivery gas utilities to off grid communities. HBH Gas Systems has unsurpassed expertise in the implementation of Community Propane Systems designed to serve off-grid developments.
Especially because of the current economic downturn, more and more developers are finding that a Community Propane Gas System can provide the marketing boost their communities need to increase sales. Community Propane Gas Systems reduce new developments' pull on the electric grid. They allow developers to steer their off-grid developments away from carbon-heavy electricity toward more sustainable development fueled by gas. Homeowners at The Villas at Lakecliff will have the peace-of-mind associated with using an alternative green fuel as classified by the Clean Air Act and the Energy Policy Act. For all of these reasons, homebuyers find homes in communities with clean, green fuel from Central Gas Systems vastly more appealing than homes in all-electric communities.
The single-family detached condominium units in The Villas at Lakecliff will all use propane gas appliances. These range from ultra-efficient tankless water heaters and central heating/furnaces to kitchen stoves, gas lanterns, and even optional gas clothes dryers. The community's Central Gas System will carry clean-burning gas from the centralized tank through underground pipes to fuel these appliances.
HBH Gas Systems specializes in the marketing, design, and implementation of fully-engineered Central Community Gas Systems, or Community Propane Systems, nationwide. To obtain more information about this project or HBH Gas Systems visit http://www.hbhsystems.com or contact Harris Baker at 512-306-0073 or info@hbhsystems.com.
###