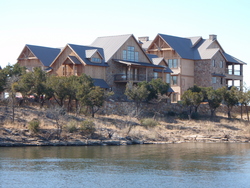 (Development of the area) quickly picked up after World War II with the establishment of major fishing lodges, camping areas and other recreational facilities. The growth and success of the area is a tribute to the spirit of the surrounding communities…
Austin, Texas (PRWEB) April 14, 2009
As the beautiful custom homes, lakeside condominiums and gorgeous facilities at Hill County Harbor rise from the Texas Hill Country around Possum Kingdom Lake, so does the fully turn-key, underground piped Central Gas System being implemented by HBH Gas Systems of Austin, Texas.
Located near Fort Worth, Texas, this community sits in a rustic lakeside setting that is too far from the natural gas grid for extensions to be viable. Still, the developers knew that their discerning homeowners would demand gas to fuel their stoves, outdoor kitchens, tankless water heaters, and many more amenities. Moreover, the developers desired a number of other gas features, such as poolside torches and gas lamps throughout the community. Building this community all-electric - the least desirable and most environmentally unfriendly method - simply wasn't an option.
Without natural gas, the developers had two options: either install unsightly and inefficient individual tanks at each home and facility, or turn to HBH Gas Systems to implement a turn-key Central Gas System that will provide individually metered gas through underground pipes to each building. The decision was easy to make.
Central Gas Systems, sometimes referred to as Central Propane Distribution Systems or Community LP Gas Systems, provide propane from a centralized tank in a manner identical to a natural gas system. HBH Gas Systems is a leader in the design and implementation of Central Gas systems. HBH Gas Systems manages the system design and installation, as well as the gas delivery, service and individual customer billing.
With a Central Gas System from HBH Gas Systems, the developer and builder will benefit from the many marketing advantages afforded by their ability to offer underground metered gas service. The homeowners will enjoy considerable cost savings: residents of the Harbor could likely save up to 50% on their utility bills by using propane from this Central Gas System in lieu of electricity. All of these benefits of central gas systems compliment the fact that the gas appliances and amenities will bring increased levels of comfort and convenience to the residents of Hill Country Harbor.
A Historical Marker at Possum Kingdom Lake reads, "(Development of the area) quickly picked up after World War II with the establishment of major fishing lodges, camping areas and other recreational facilities. The growth and success of the area is a tribute to the spirit of the surrounding communities…" It is with this same spirit and dedication that the developers of Hill Country Harbor and HBH Gas Systems are bringing this beautiful community to Texas.
HBH Gas Systems has developed, designed, and installed central gas distribution systems in residential communities and commercial developments throughout the US and abroad. HBH is committed to facilitating sustainable development worldwide by bringing gas to regions where it was previously unavailable. For more information about HBH Gas Systems, visit http://www.hbhsystems.com or contact Harris Baker at (512) 306-0073 or [email protected] To learn more about the many environmental benefits of Central Gas Systems, visit http://www.hbhsystems.com/environmental.html.
###